Jean L. Kreiling






Hearing the Vienna Boys Choir at Plymouth Memorial Hall



A chance mismatch of history:
a long-gone empire's youthful choir
sings where a New World colony
once struggled. Like birds on a wire,

these sailor-suited boys are sure
and naïve, their small voices sweet
and silvery—imperfect, pure
reminders of time's steady beat.

Beside me, just as clear and bright,
and just as sweet to recognize,
an elderly, familiar light:
the pleasure in my mother's eyes.



Mirror Nonet for Three Sisters



Bred from a versatile vine, we might
be Zinfandel, Merlot, Chablis.
One inherited the curls,
one the tidiness gene,
one the travel bug—
three vintages,
three glasses
filled with
love.

Love
does not
reconcile
sweet and dry, or
golden and reddish,
but it softens the tongue,
and cools the throat once inflamed
by cross words and competition,
and ripens all we took from the vine.



Treasures



He'd never understood it—why these bits
of colored glass aroused in her such fits
of longing, followed by the acquisition
of pretty breakables. Her disposition,
not always sunny, brightened when she made
a sparkling work of art her own; he'd trade
an arm to see that smile. He'd watched her buy
a small red pitcher and a slender sky—
blue bud vase and a paperweight with pink
and yellow swirls and cups you couldn't drink
from (striped and speckled, fat and fluted)
and antique bottles, their shades mostly muted—
rose, lilac, and pale yellow like her hair—
and little bowls that held nothing but air.
He wondered why she loved these delicate
and useless things. Did these inanimate,
well-crafted, shiny objects make her feel
as if she shared their glow? In their ideal
designs did they remind her to be glad
for every pleasure, every gift she had?
Perhaps. He worried, though: it all could shatter,
and rainbows of detritus quickly scatter,
so easily. And then might her distress
cause something else to fracture? He'd confess
he didn't want to know; he would protect
whatever she deemed worthy to collect.
And so he built for her a sturdy case
designed to hold and show off every vase,
bowl, pitcher, paperweight, and cup. He knew
that her joy was his own; he had to do
his best to safeguard every frangible,
beloved, lovely thing—the tangible
bright baubles, her intangible delight,
and all the colors of each day and night
they shared. The case itself was mostly glass,
through which the always-shifting light could pass,
igniting every hue. The irony
did not escape him: these glass shelves could be
smashed, too. And so, he guessed, could everything;
you still love what or whom you love; you cling
to all that shines for you. And she was thrilled
with what he'd done; she kissed him and then filled
the case with treasures. It was no surprise
when he saw his own treasure in her eyes.




AUTHOR BIO
Jean L. Kreiling is the author of two poetry collections, Arts & Letters & Love (2018) and The Truth in Dissonance (2014); her work appears widely in print and online journals and in anthologies. She is a past winner of the Able Muse Write Prize, the Great Lakes Commonwealth of Letters Sonnet Contest, three New England Poetry Club prizes, and the String Poet Prize, and she has been a six-time finalist for the Howard Nemerov Sonnet Award. In her day job, Kreiling is a Professor of Music at Bridgewater State University in Massachusetts.
POETRY CONTRIBUTORS

Barbara Crooker

Alexandra Donovan

Jehanne Dubrow

Kathleen Goldbach

Colleen S. Harris

Brittany Hill

Katherine Hoerth

Lynne Knight

Jean L. Kreiling

Angie Macri

Carolyn Martin

Kathleen McClung (Featured Poet)

Mary Mercier

Ann Michael

Leslie Schultz

Myrna Stone

Jean Syed

Ann Christine Tabaka

Sally Thomas

Doris Watts

Joyce Wilson

Marly Youmans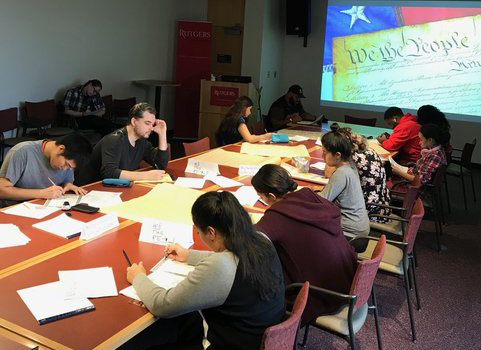 Morgan O'Hara:LIVE TRANSMISSIONS render visible normally invisible or fleeting movement patterns through seismograph-like drawing done in real time. The pursuit of vitality carefully observed through human activity is drawn simultaneously with both hands and transmitted to paper. Following closely the intensity of each segment of an activity, the direction of the line as well as the quality of its intensity is transmitted. If a person makes a gentle movement, a delicate line is drawn. If the action followed is forceful or violent, a correspondingly vigorous line is made. This is done simultaneously and as much as possible without "thinking." The dialectic between observer and participant, control versus relaxed participation coalesce to form the conceptual base for LIVE TRANSMISSIONS. Scale and physical limitations are determined by real-life expediency. In 2018 there exist approximately 4000 LIVE TRANSMISSION drawings done both privately and publicly on five continents. LIVE TRANSMISSIONS communicate beyond the specificity of language.

HANDWRITING THE CONSTITUTION is a social art practice which O'Hara began in January 2017. It is a process by which people come together for a specific time period to handwrite the Constitution. This practice encourages a quiet, introspective process, a form of activism for introverts. As people copy out texts which guarantee freedom and human rights, a strong sense of community is silently created. www.handwritingtheconstitution.com