Hilary Biehl's poems have appeared in The Lyric, Phantom Drift, Barking Sycamores, Dappled Things, and elsewhere. She lives with her husband and their son in Santa Fe, New Mexico.








Judith Grey lives in Maine where she finds inspiration in the woods, by the sea, and in other wild places. Places her poems have been published include: The Lyric, Calyx, Blueline, The Baltimore Review, Oberon, About Place Journal: Practices of Hope, The Ravens Perch, and forthcoming in The Ocean State Review.







Mureall Hebert lives near Seattle, WA with her family. Her work can be found in Hobart, [PANK], JMWW, Pithead Chapel, decomP and elsewhere. She's been nominated for Best New Poets, a Pushcart Prize, and an Honorable Mention in Glimmer Train's Very Short Fiction contest. She holds an MFA from the Northwest Institute of Literary Arts.





Jen Karetnick's fourth full-length book is The Burning Where Breath Used to Be (David Robert Books, September 2020). She is also the author of Hunger Until It's Pain (Salmon Poetry, forthcoming spring 2023); The Treasures That Prevail (Whitepoint Press, September 2016), finalist for the 2017 Poetry Society of Virginia Book Prize; and the chapbook The Crossing Over (March 2019), winner of the 2018 Split Rock Review Chapbook Competition, in addition to six other collections. Karetnick has won the 2020 Tiferet Writing Contest for Poetry, the Hart Crane Memorial Prize, and the Anna Davidson Rosenberg Prize, among others, and has been an Artist in Residence in the Everglades, a Deering Estate Artist in Residence, and a Maryland Purple Line Transit grant recipient. Co-founder and managing editor of SWWIM Every Day, she has work appearing recently in Barrow Street, The Comstock Review, december, Michigan Quarterly Review, Terrain.org, and elsewhere. Based in Miami, Jen works as a lifestyle journalist and is also the author of four cookbooks, four guidebooks, and more.





E. R. Lutken worked as a physician on the Navajo Nation. After retiring, she taught math and science in rural Colorado for a few more years. Now she spends her time writing, playing old-time music, and fishing in the swamps of Louisiana and mountain streams of New Mexico. Her poems often involve science and mathematics, and have appeared in Ponder Review, Thin Air Magazine, and Think, among others.





Professor of English and Creative Writing at Lock Haven University, Marjorie Maddox has published 11 collections of poetry—including Transplant, Transport, Transubstantiation (Yellowglen Prize); True, False, None of the Above (Illumination Book Award Medalist); Local News from Someplace Else; Perpendicular As I (Sandstone Book Award)—the short story collection What She Was Saying (Fomite); four children's and YA books—including Inside Out: Poems on Writing and Reading Poems with Insider Exercises (Finalist Children's Educational Category 2020 International Book Awards), and A Crossing of Zebras: Animal Packs in Poetry; Rules of the Game: Baseball Poems , I'm Feeling Blue, Too!—Common Wealth: Contemporary Poets on Pennsylvania (co-editor); Presence: A Journal of Catholic Poetry (assistant editor); and 600+ stories, essays, and poems in journals and anthologies. Forthcoming in 2021 is her book Begin with a Question (Paraclete Press), as well as her ekphrastic collaboration with photographer Karen Elias, Heart Speaks, Is Spoken For (Shanti Arts). For more information, please see www.marjoriemaddox.com.





Nicole Michaud was born to a French Canadian family in New Hampshire, U.S. in the 1970s. Her ancestors emigrated from western France in the mid-1600s, to settle in the Bas-Saint-Laurent region of Canada. Her family remained primarily in the Province of Quebec for six generations, emigrating to New England in the late 1800s. She has traveled abroad and extensively throughout the United States, and has visited all but two of the 50 U.S. States (North Dakota and Hawaii).

Ms. Michaud studied at the Pennsylvania Academy of Fine Arts in Philadelphia, PA, and lives in Philadelphia with her husband and daughter. She creates works in various media, and explores themes of beauty, memory, melancholy, and personal history. She moves between abstraction and representation for many projects, and enjoys finding the intermediate area between the two.

SELECTED EXHIBITIONS: Stanek Gallery — Shifting Perspectives, Philadelphia PA 2020; Every Woman Biennial, New York, NY 2019; Stanek Gallery — Unbound—Works on Paper, Philadelphia PA 2019; The Gallery at Mercer County Community College, West Windsor NJ 2019; ArtExpo New York — Pier 94, New York, NY 2018; Stanek Gallery — Pure Abstraction, Philadelphia PA 2018; Fellowship of the Pennsylvania Academy of the Fine Arts (FPAFA), Philadelphia, PA 2017; Avery Galleries, 5 To Watch, Bryn Mawr, PA 2016; Pennsylvania Academy of the Fine Arts Alumni Gallery 2015; The 116th FPAFA Annual Juried Exhibition, Philadelphia PA 2015; 115th FPAFA — Annual Juried Exhibition, Philadelphia PA 2014; National Association of Women Artists, Inc. — Small Works Exhibition, New York NY 2014; Traditions of Excellence: Selected Artwork by the Faculty and Alumni of the Pennsylvania Academy of the Fine Arts — Governor's Residence, Harrisburg, PA 2014; Artists Against Hunger — 2nd Annual Juried Exhibition 2014; Artists' House Gallery 2013—2014; Woodmere Art Museum — 71st Annual Juried Exhibition, Philadelphia, PA 2012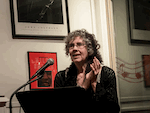 Diane Lee Moomey is a painter and poet living in Half Moon Bay, California, where she is co-host of Coastside Poetry, a monthly reading series; her work has appeared in PoetryMagazine.com, Caesura, California Quarterly, The Road Less Taken and others. In 2016, 2017 and 2018, she won prizes and Honorable Mentions for her sonnets in the Ina Coolbrith Circle and in the Soul Making Keats Literary Contests. Please visit her at www.dianeleemoomeyart.com.





Samantha Pious' translations of Renée Vivien are available as A Crown of Violets (Headmistress Press, 2017); her translations of Christine de Pizan are forthcoming. She holds a PhD in Comparative Literature from the University of Pennsylvania. You can find her at samanthapious.com.





Barbara Sabol's fourth collection, Imagine a Town, was awarded the 2019 Poetry Manuscript Prize from Sheila-Na-Gig Editions. Her poetry has appeared widely in journals; most recently, Evening Street Review, One Art, Northern Appalachia Review, Literary Accents, as well as in numerous anthologies. Barbara's awards include an Individual Excellence Award from the Ohio Arts Council. She lives in Akron, OH with her husband and wonder dogs.





Wendy Sloan practiced labor and civil rights law with the firm of Hall & Sloan before returning to poetry. Her first collection is Sunday Mornings at the Caffe Mediterraneum (Kelsay Books, 2016). Sloan's poems and Italian translations have appeared in many journals including Big City Lit, Blue Unicorn, Light, Measure, Mezzo Cammin, Think, and Umbrella, and in the anthologies The Able Muse Translation Issue, The Best of the Raintown Review, The Great American Wise-Ass Poetry Anthology, Love Affairs at the Villa Nelle, and Poems for a Liminal Age, benefiting Medecins San Frontieres, UK. She has been a finalist in the Howard Nemerov Sonnet Award Competition, and several of her poems have been nominated for a Pushcart Prize. Sloan lives in New York City, where she hosts the Carmine Street Metrics poetry reading series.





Myrna Stone is the author of five books of poems, the most recent being Luz Bones, released by Etruscan Press in 2017. A two-time Ohioana Book Award Finalist, and a Pushcart Prize nominee, her work has appeared in nine anthologies and in over fifty journals including Poetry, Southwest Review, The Massachusetts Review, Boulevard, Nimrod, and River Styx. Among her other awards are three Ohio Arts Council Individual Excellence Awards, a full fellowship to Vermont Studio Center, the 2001 Ohio Poet of the Year award, the 2002 Poetry Award from Weber: The Contemporary West, and the 2017 New Letters Prize in Poetry. Stone is a founding member of The Greenville Poets, based in Greenville, Ohio.





J. C. Todd is author of Beyond Repair (Able Muse Press 2021), The Damages of Morning (Moonstone Press 2018), an Eric Hoffer Award finalist, and three other books of poems. She and MaryAnn L. Miller have collaborated on two Lucia Press artist books held in collections across the nation including that of the Betty Boyd Dettre Library and Research Center of the National Museum of Women in the Arts: On Foot/By Hand (2018) and FUBAR (2016). The text of the latter was adapted from the seventh sonnet [this tattered ear] of "FUBAR'd," and its second sonnet [This one's the airman] was an honorable mention for the 2019 Able Muse Write Prize. Winner of the 2016 International Literary Award's Rita Dove Prize for Poetry and twice a finalist for Poetry Society of America awards, Todd has held fellowships from the Pew Center for Arts and Heritage, the Pennsylvania Council on the Arts, and artist residency programs, including Bemis Center, Ragdale, Ucross, and the Virginia Center for Creative Arts' artist exchange program. Her work has been published in American Poetry Review, Baltimore Review, Beloit Poetry Journal, The Paris Review, Virginia Quarterly Review, and is forthcoming in Gargoyle. She has taught in the Creative Writing Program at Bryn Mawr College and the MFA program at Rosemont College and lives in Philadelphia, PA.





Paulette Demers Turco, editor of The Powow River Poets Anthology II (Able Muse Press, January 2021), a Powow River Poet since 2018, co-organizes the bimonthly Powow Reading Series. Her poetry appears in The Lyric, Ibbetson Street, The Poetry Porch, Quill & Parchment, Poems for Plovers (chapbook, Hawk & Whippoorwill, 2020), 2020 Hippocrates Awards Anthology, and Merrimac Mic Anthologies II-V. Her chapbook, In Silence, was published by Finishing Line Press, 2018. Awards include: Robert Frost Poetry Award; First Prize, Rockport Ekphrastic Poetry Contest; Lesley University MFA in Writing President's Award. She holds an MFA from Lesley University, Cambridge, MA. Retired from academic and clinical optometry, she draws, paints, and lives in Newburyport, MA.





A graduate of Middlebury College, Elaine Wilburt lives in Maryland with her husband, five children, mother, and one spoiled dog. Her fiction and poems have been included or are forthcoming in various online and print journals, such as Puerto del Sol, Broad River Review, Uppagus, and Heart of Flesh. About three years ago, she began writing haiku, senryu and haibun and received a Highly Commended, 2019 Creatrix Haiku Award. Elaine also volunteers as a copy editor for Better Than Starbucks.





Joyce Wilson has taught English at Suffolk University and Boston University. She is creator and editor of the magazine on the Internet, The Poetry Porch, which has been on-line since 1997. Her poems have appeared in many literary journals, among them Alabama Literary Review, Poetry Ireland, and Salzburg Poetry Review. Her first poetry collection The Etymology of Spruce and a chapbook The Springhouse both appeared in 2010. Her new chapbook The Need for a Bridge appeared in March 2019, and a second full length collection Take and Receive was published in May 2019.