Ansie Baird taught for forty years at The Buffalo Seminary, is a former editor for Earth's Daughters, has taught for Just Buffalo in their Writers In Education program, and participated in the Albright-Knox collaborative entitled: A Picture's Worth a Thousand Words. Her work has been published a number of times in The Paris Review, as well as in The Southern Review, The Denver Quarterly, The Quarterly, Western Humanities Review, New Ohio Review and a number of other journals. Her book, In Advance Of All Parting, won the White Pine Press national poetry competition and was published by White Pine Press in 2009. In September of 2016, BlazeVOX Press published her second full-length collection of poems, The Solace of Islands. In addition, in 2016, she was one of four poets included in Outriders Press book entitled Four Buffalo Poets. The Foundling Press is publishing her latest collection, entitled Porch Watch, in May of 2019.





Melissa Balmain edits Light, America's longest-running journal of comic poetry, and teaches at the University of Rochester. Her poems have appeared or are forthcoming in The American Bystander, American Life in Poetry, Measure, The New Criterion, The New Verse News, Poetry Daily, Rattle, The Spectator (UK), Verse Daily, The Washington Post, and assorted anthologies; her prose in The New Yorker, The New York Times, McSweeney's, and Success. Her poetry collection Walking In on People (winner of the Able Muse Book Award) is often assumed by online shoppers to be some kind of porn. Twitter feed: @MelissaBalmain. Website: www.melissabalmain.com





Kathryn Boswell is an Episcopal priest in a small village in Upstate New York. She came to the priesthood late, her first vocation having been divided among freelance artist, subsistence farmer, and raising a large family of ten children, now all grown. These days she and her husband live with two cats and two dogs in a little house with an ever-expanding garden.





Maya Chhabra graduated from Georgetown University in 2015. Her poetry has appeared in Abyss & Apex, Liminality, Mythic Delirium, Through the Gate, Star*Line, and The Cascadia Subduction Zone. Her novella Toxic Bloom is forthcoming from Falstaff Books, and her translation of Marina Tsvetaeva's verse play Fortune appeared in the journal Cardinal Points. She is also an author of science fiction and fantasy short stories. She lives in Brooklyn with her partner.





Geraldine Connolly is a native of western Pennsylvania and the author of four full-length collections, mostly recently, Aileron (Terrapin Books, 2018). She is the recipient of two N.E.A. creative writing fellowships in poetry, a Maryland Arts Council fellowship, and the W.B. Yeats Society of New York Poetry Prize. She was the Margaret Bridgman Fellow at the Bread Loaf Writers Conference and has had residencies at Yaddo, the Virginia Center for the Creative Arts and The Chautauqua Institute. Her work has appeared in Poetry, The Georgia Review, Cortland Review and Shenandoah. It has been featured on The Writers Almanac and anthologized in Poetry 180: A Poem a Day for American High School Students, Sweeping Beauty: Poems About Housework and The Sonoran Desert:A Literary Field Guide. She lives in Tucson, Arizona. Her website is www.geraldineconnolly.com





Linda Conroy is an older writer, starting poetry more seriously only after retirement. Her poems have recently appeared or are forthcoming in The Penwood Review, Persimmon Tree, Shot Glass and Raven Chronicles as well as local anthologies.





Lisa DeSiro is the author of Labor (Nixes Mate, 2018) and Grief Dreams (White Knuckle Press, 2017). Her poems have been published in various print and online journals, as well as in Writers Resist: The Anthology (Running Wild Press, 2018) and Nasty Women Poets: An Unapologetic Anthology of Subversive Verse (Lost Horse Press, 2017). Her texts have also been set to music by several composers. Along with her job as Production & Editorial Assistant for C.P.E. Bach: The Complete Works, Lisa is an assistant editor for Indolent Books and a freelance accompanist. Read more at https://thepoetpianist.wordpress.com/.





Peggy Landsman is the author of a poetry chapbook, To-Wit, To Woo (Foothills Publishing). Her work has been published in many literary journals and anthologies, including, most recently, The Hypertexts and Nasty Women Poets (Lost Horse Press). She currently lives in South Florida where she swims in the warm Atlantic Ocean every chance she gets. See her website at peggylandsman.wordpress.com





Susan McLean is a retired English professor from Southwest Minnesota State University. Her poetry books include The Best Disguise (winner of the Richard Wilbur Award) and The Whetstone Misses the Knife (winner of the Donald Justice Poetry Prize). She also has a book of translations of Martial's Latin poems, Selected Epigrams. She lives in Iowa City, Iowa.





Alice Mizrachi is a New York based mixed media artist. Her practice includes work as a muralist, fine artist, educator, and curator. Alice has worked as an arts educator, developed curriculum, and presented on panels for a variety of organizations, including: BRIC Arts, The Laundromat Project, The Studio Museum in Harlem, HI-ARTS, Miami Light Project, Brown University, and The Devos Institute of Arts Management among others. Her artwork has been featured at the Museum of the City of New York, the National Museum of Women in the Arts and Albright-Knox Museum; and, in a variety of publications including 2Create, Outdoor Gallery: NYC, the New York Times, Huffington Post, and Architectural Digest. Alice received a BFA from Parsons School of Design, has received grants from The Puffin Foundation and The Ford Foundation, and held residencies at Fountainhead in Miami and Honeycomb Arts In Buenos Aires in 2017. Alice currently holds a studio space at The Andrew Freedman Home in the Bronx.





Diane Lee Moomey has lived and wandered around the US and Canada, and now dips her gardener's hands in California dirt. A regular reader at San Francisco Bay Area poetry venues, Diane has published prose and poetry, most recently in Peacock Journal, The Road Not Taken, The Sand Hill Review, California Poetry Quarterly, Caesura and Red Wheelbarrow, and has been nominated for a Pushcart prize. In 2016, 2017 and 2018, she won prizes and Honorable Mentions in the Sonnet (including the poems here) and Creative Non-Fiction categories of the Soul Making Keats Literary Contest. Her most recent poetry book, Nothing But Itself, will be available in February. To know more, please visit https://www.pw.org/content/diane_moomey





Alexandra Oliver was born in Vancouver, Canada. She is the author of Meeting the Tormentors in Safeway (Biblioasis, 2013) which received the 2014 Pat Lowther Memorial Award and Let the Empire Down (ibid., 2016) as well as the chapbook On the Oven Sits a Maiden (Frog Hollow Press, 2018). Oliver is the co-editor (with Annie Finch) of Measure for Measure: An Anthology of Poetic Meters (Everyman's Pocket Poet Series, 2015) and, together with Pino Coluccio, curated Canadian formalist poetry review The Rotary Dial from 2013 to 2017. She holds an M.A. in Drama from the University of Toronto and an M.F.A. in Creative Writing from the Stonecoast Program at The University of Southern Maine and is currently a PhD candidate in English and Cultural Studies at McMaster University.





Samantha Pious is the translator of A Crown of Violets: Selected Poems of Renée Vivien (Headmistress Press, 2017). She holds a PhD in Comparative Literature from the University of Pennsylvania, and is currently working as acquisitions editor for Indolent Books. Some of her poems and translations have appeared in Adrienne, The Berkeley Poetry Review, Lunch Ticket, and other publications.





M. B. Powell's poems have appeared in various journals, including Atlanta Review, Dappled Things, Dogwood, The Lyric, Peregrine, Raintown Review, and Third Wednesday. Collections include a chapbook, Lovers, Mothers, Killers, Others (2013), and two books, In Relation to the Surface (2019) and Two Neutron Stars Collide; or, Everyone's Love Affair (forthcoming 2019). Recognition of individual poems includes Atlanta Review's International Poetry Contest Grand Prize (for "Phrases for Public Speakers at Sea"), the Princemere Poetry Prize (for "Slack Water"), and the Georgia Poetry Society's Educators Award (for "One Mother's Day"). Originally from Marietta, Georgia, she now lives in Union, Washington.





Carol Lynn Stevenson Grellas lives in the Sierra Foothills. She studied at Santa Clara University where she was an English major. She is a nine-time Pushcart nominee and seven-time Best of the Net nominee. In 2012 her chapbook Before I Go to Sleep was selected as a winning chapbook in the Red Ochre Chapbook contest and in 2018 her poem 'A Mall in California' placed 2nd for the Jack Kerouac Poetry Prize. She is the author of several chapbooks along with five full-length collections of poetry including Epitaph for the Beloved soon to be released from Finishing Line Press. She is a member of Saratoga's Authors Hall of Fame and The Sacramento Poetry Center Board of Directors. See her website at www.clgrellaspoetry.com





Alexandra Umlas is a recent graduate of California State University's MFA Poetry program. You can find her work in Rattle, Shrew Literary Magazine, and Cultural Weekly, among others, or at www.alexandraumlas.com. Her crown of sonnets won first place in the 2018 Poetry Superhighway Poetry Contest. She currently reads for Palette Poetry.





Cheryl Whitehead's first chapbook, So Ghosts Might Stop Composing, is forthcoming from Finishing Line Press in August 2019. Her poems have appeared in The Southern Poetry Anthology: Volume VII, The Hopkins Review, Measure, Callaloo, Crab Orchard Review and other journals. She has been a finalist for the New Letters and Morton Marr Poetry Prizes and the Unicorn Press First Book Award. She won an emerging artist grant from the Astraea Foundation and was invited to give a reading at A Different Light Bookstore in New York City. Whitehead writes about visual art for Milieu Magazine.





Marly Youmans is a poet and novelist, author of five books of poetry and nine novels. This month marks publication of a collection of formal poems centered on the figures of the mysterious Red King, the metamorphosing Fool, and the ethereal Precious Wentletrap: The Book of the Red King from Phoenicia Publishing in Montreal. Other recent poetry books are the epic adventure in blank verse, Thaliad, and the collections The Foliate Head and The Throne of Psyche. Her most recent novels are Maze of Blood, Glimmerglass, and A Death at the White Camellia Orphanage; a novel set in the 1690's Massachusetts Bay Colony, Charis in the World of Wonders, is forthcoming in 2020. John Wilson, longtime editor of Books & Culture, writes that "Youmans (pronounced like "yeoman" with an "s" added) is the best-kept secret among contemporary American writers. She writes like an angel—an angel who has learned what it is to be human." A Southerner astray in snowy upstate New York, she has lived for the past two decades within sight of Kingfisher Tower and the lake James Fenimore Cooper called Glimmerglass.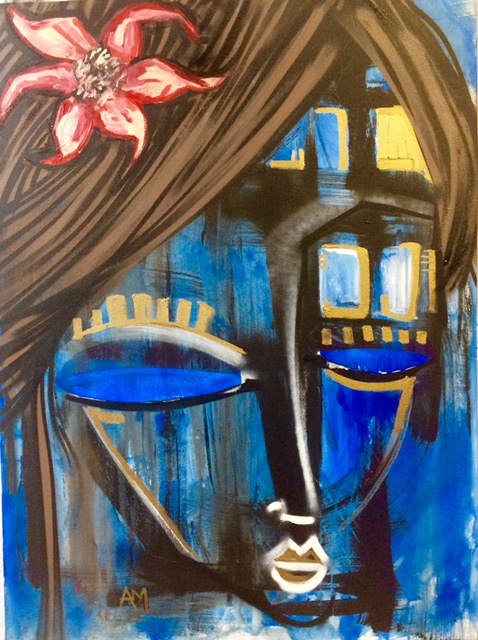 Rounded in deep compassion for the human experience across borders, Mizrachi explores both the spiritual and physical dimensions of being human, and in particular, female. Often times, the female figure in various mythical iterations intersects with earthbound feminine forms as a means to communicate and transmit social consciousness. Mizrachi's intentions include the empowerment of self and others through artistic expression, as well as advocacy for women, youth, and the environment. Family, community, and tribe are also recurring themes and are approached as active spaces of shared engagement. In recent years, Mizrachi's studio practice has developed into a testing ground for explorations in assemblage, sculpture, and installation that has transformed both her painting practice and decades of work as a muralist. Moving beyond paint, her small scale pieces have become sculptural drawings and her murals have become outdoor wall installations. Both styles of work have taken on new life as three dimensional geometric forms.