Myrna Stone






Horseplay




For Makenna

Imagine, darling girl, what the world
will doubtless have in store: a swirl
of gemstones at your neck, a whorl
of pearly birthday opals sure to pale
on alabaster you, and, of course, male
after male tracing designs in braille
on the inside of your wrists, such due
as men are prone to do. As for you,
you must rule you, and fast undo
expectations. Mind a life of mind,
for it's clear the body's wholly blind
to all but its own affairs. Love finds
us, as it may, though for now, today,
how deep and apt the happy interplay
of it that you and Abel share. A bay
who often gads about and likes to eat
hard candy, he snorts and lips his teeth.
He's the freest part of you, my sweet.




Newsreel: Seabiscuit Past His Heyday




Charles Howard's Ridgewood Ranch, Willits, California, April, 1947

Behold the little horse that can and does
forever laze about the pasture upon his
pasterns, a mulish, knock-kneed, loose-

lipped swiller of untold bottles of Golden
Rod beer sent by a legion of diehard fans,
former bettors on and raters of an olden

sport's oddest bit of horseflesh known
as the Biscuit to them and to one and all
who muck his stall and bed him down,

or as Pops to Pollard who rode him back
from injury to victory in the Santa Anita
Handicap of nineteen-forty and a track

record of 2.01 and a fifth on its dirt mile
and a quarter. Yes, the gloss still shines
on the stats that define his erstwhile

mettle as horse racing's all-time money
winner on the day he was retired here
and put out to stud. If his tail's puny

and his legs stubby, if his humor fails
and his ire flairs, to the five thousand
devotees who journeyed here to trail

him along the paddock fence or watch
him nap in his stall, it means precisely
zilch. Of his last companions—a pooch

named Pocatell, who one day strayed in
from Willits, Jo-Jo, a spider monkey,
and a former cow pony, Pumpkin—

only the pony's left, his temper smooth
as sweet cream butter. "Pumpkin's Zen,"
says Howard, "to the Biscuit's schmooze

as they nuzzle and nicker through the night."
That may well be fact, but for now a plump
and surly Biscuit, clearly clever and deft

as ever, subverts by nipping Howard's felt
fedora from his head, shaking it twice,
then tipping it, in salute, to himself.



Ode to Lard



Any meat packed with pig fat could enact
true witchery on our unsophisticated palates
if baked, broiled, or grilled and slung or stacked,
artfully or not, high on our supper plates.

My brother, Richard, home from the Navy
on antic weekend leaves, charmed our mother
into fleshing out what he longed for most: buttery
cuts of chicken and sliced potatoes sputtering

in her skillets as they browned to amber in lard
while in the oven black raspberry syrup extruded
from her lard-laden crust…. Soon, however, tarred
by science's ever more vocal alarms, excluded

by cook after cook on our block, lard vanished
like a sour stepchild from its corner in our pantry,
its penchant for crispness and tenderness banished
for a less predictable clarity and a penny-ante

take on voluptuousness. Just ask me, or Richard,
or my other two brothers, and we'll gladly testify
to our mother's knack with a pot of fat, the altered
life without it, and how, even now, we glorify

the memory of lard's unforgettable mouthfeel
inside our cheeks and on our tongues, each bite
a little love story concocted by our mother's zeal
to give us both abundance and delight.




AUTHOR BIO
Myrna Stone is the author of five full-length books of poetry: Luz Bones, released this past spring from Etruscan Press; In the Present Tense: Portraits of My Father, a Finalist for the 2014 Ohioana Book Award in Poetry; The Casanova Chronicles, a Finalist for the 2011 Ohioana Book Award in Poetry; How Else to Love the World; and The Art of Loss, for which she was named 2001 Ohio Poet of the Year. She has received two Ohio Arts Council grants in Poetry, a Full Fellowship to Vermont Studio Center, and the 2002 Poetry Award from Weber, The Contemporary West. In 2015 Stone presented five morning lectures on Poetry as a member of the faculty of the Antioch Writers' Workshop. Her poems have been featured on Poetry Daily, Verse Daily, and Every Day Poems, and have appeared in such journals as Poetry, Ploughshares, Boston Review, TriQuarterly, The Massachusetts Review, Nimrod, River Styx and Southwest Review.
POETRY CONTRIBUTORS

Michelle Blake

Erica Charis-Molling

Kay Cosgrove (Featured Poet)

Anna M. Evans

Nicole Caruso Garcia

Kelsey Ann Kerr

Jeanne Larsen

Susan McLean

Claudia Monpere

Diane Moomey

Stephanie Noble

Suzanne Noguere

Linda Parsons

Samantha Pious

Barbara Quick

Leslie Schultz

Sofia Starnes

Myrna Stone

Katherine Barrett Swett

Marly Youmans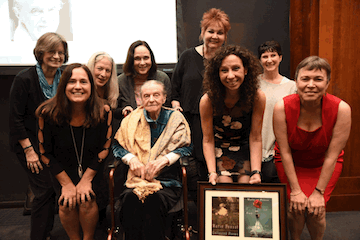 The most recent addition to The Mezzo Cammin Women Poets Timeline is Rosa Newmarch by Jean L. Kreiling.
Marie Ponsot was presented with a Lifetime Achievement Award at the Celebration of the Timeline reaching 75 essays, Lincoln Center, Fordham University (Sponsored by Fordham's Curran Center) Friday, October 20th, 2017.
Charlotte Innes is the recipient of the 2018 Mezzo Cammin Scholarship to the Poetry by the Sea conference.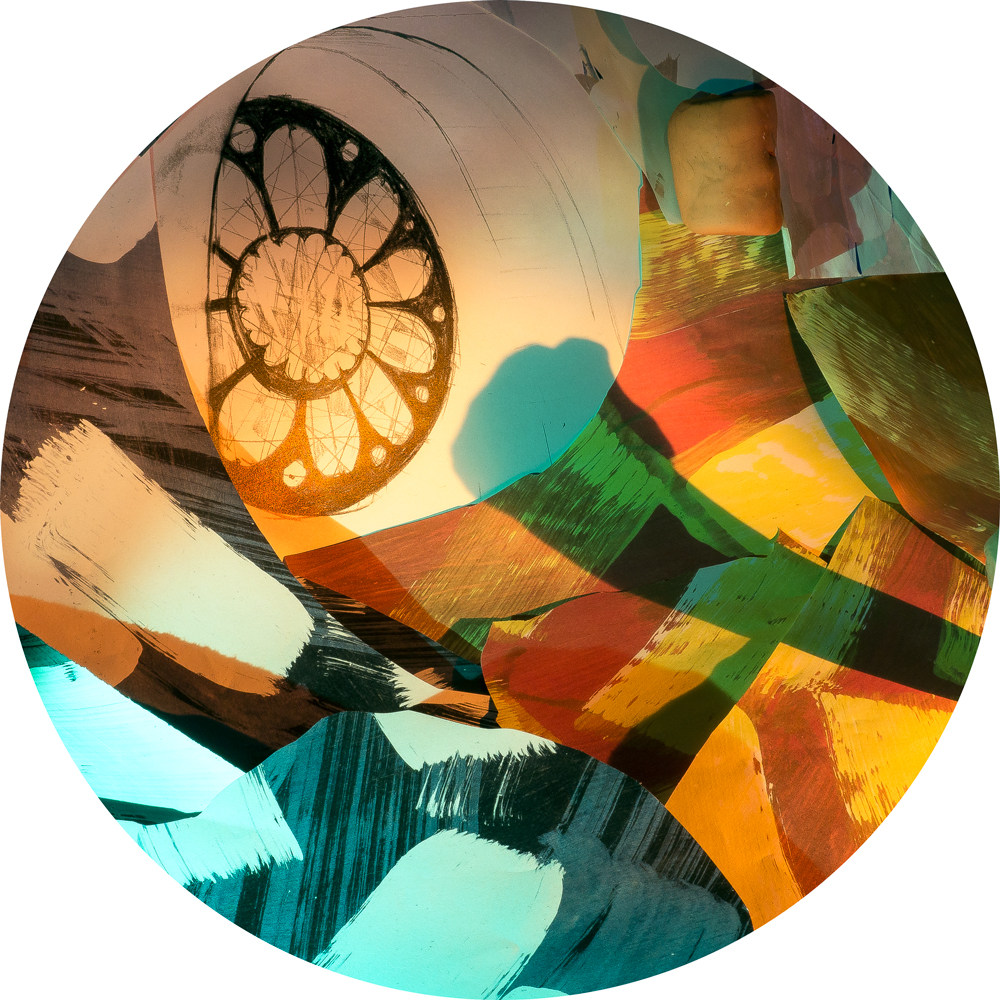 Rachael Gorchov: Recently I completed a body of work that focused on the landscapes that define suburban office and industrial complexes, contemplating their subtle relationships with the history of landscape painting. When looking at these places I saw English landscape gardens – orchestrated nature that gave way to picturesque landscape painting. I documented my subjects onsite by drawing their reflections in a Claude Glass, a convex black mirror popularized as an observation device in the 18th century. This tool appealed to me for how its skews and bulges its reflection, making my work highly subjective from the start. I then constructed paintings in the studio based on these drawings. The three-dimensional nature of my paintings further emphasized the forced perspective in my initial drawings and required viewers to explore the paintings much like they might explore a physical space by moving around, crouching and craning their necks.

Irregular versions of geometric forms such as cubes, parabolic curves, cones and triangles comprised the dimensional shapes of these pieces and eventually gave way to my working nearly exclusively on concave surfaces and 'rocks with cast shadows.' I settled on these structures for a few reasons. When a viewer stands directly in front of the concave works, irregular half-spheres with the convex side attached to the wall, the paintings fill their peripheral vision for an immersive experience. The rocks and shadows, amorphous objects paired with adhesive-backed prints, are reminiscent of portals and geologic abrasions. They invite viewers to question if the dimensional form is emerging from or entering into another space. Like in other works, these pieces frame the physical space the artworks inhabit.

In 2016, I visited Europe where I recognized parallels between the interiors of Renaissance spaces and my own paintings, such as the power that foreshortening possesses in its ability to collapse and intensify space in cathedrals– similar to my Claude Glass works. This experience coincided with a visit to an exhibition in Vienna featuring renderings of synagogues that once stood in the city. This piqued an interest in contemplating architectural space in my work and prompted me to consider architectural language in my own Jewish cultural heritage. I then began a series of tondos, a Renaissance term for circular artworks, of European Jewish architecture.

Beginning with paintings and mixed-media, in these works I build a photographic image that engages the space wherever it is installed, becoming part of the architecture. I arrived at the tondo format through my own history of making non-rectangular paintings, and appreciate its relationship to reliefs and rose windows found in synagogues and cathedrals. In gathering source imagery, I rely heavily on documentation – photographs and engravings as most of these buildings have been destroyed. I contemplate the collective memory images of architectural space can reveal. In this spirit, this work depicts layered environments where scale, color and depth shift ambiguously, revealing experiential space.

I consistently begin works by looking at a particular subject because of an art historical or personal association, and then through a process of extracting details from their surroundings using an accumulation of marks, color and a tactility, I sacrifice specificity of form and place, ultimately revealing a specificity of experience as my subject.