Michelle Blake has published poetry and essays in Tin House, The New York Times, Ploughshares, Southern Review, Solstice Literary Magazine, MORE Magazine, Ladies Home Journal, Parents and others. Her essay "A Fable for Our Times" won the Solstice Nonfiction Award for 2015. She has also published three critically acclaimed novels—The Tentmaker, Earth Has No Sorrow and The Book of Light (Putnam Penguin). Her chapbook of poems, Into the Wide and Startling World, was awarded publication in the New Women's Voices competition in 2012 (Finishing Line Press). In 2014, her collaborative project with photo-montage artist Fran Forman, Escape Artist, was published by Schiffer. In 2017 she was a Resident Writer at the Siena Arts Institute, and she has twice received residency grants at Vermont Studio Center. In addition, she has taught writing at Goddard College, Stanford University and Tufts University and directed both the Goddard MFA and Warren Wilson MFA programs. See her website at www.michelleblakewriter.com.





Erica Charis-Molling is a creative writing instructor for Berklee Online. Her writing has been published in Borderline, Crab Fat, Broad!, The Yellow Chair, Rain, Party, & Disaster Society, and Anchor, Vinyl and Entropy. Her cross-disciplinary collaborative work has been performed at Lesley University, the Lydia Fair, the Dance Complex and other Boston-area venues. She's an alum of the Bread Loaf Writers' Conference and is currently pursuing her M.F.A. in Creative Writing at Antioch University.





Anna M. Evans' poems have appeared in the Harvard Review, Atlanta Review, Rattle, American Arts Quarterly, and 32 Poems. She gained her MFA from Bennington College, and is the Editor of the Raintown Review. Recipient of Fellowships from the MacDowell Artists' Colony and the Virginia Center for the Creative Arts, and winner of the 2012 Rattle Poetry Prize Readers' Choice Award, she currently teaches at West Windsor Art Center and Rowan College at Burlington County. Her new collection, Under Dark Waters: Surviving the Titanic, is forthcoming from Able Muse Press, and her sonnet collection, Sisters & Courtesans, is available from White Violet Press. She blogs at annamevans.com/wordpress.





Kay Cosgrove's manuscript has been named a finalist for the Field Poetry Prize, the St. Lawrence Book Award, and the Larry Levis Prize at Four Way Books. Her work has appeared in the Southern Review, the Massachusetts Review, and Prairie Schooner, among other journals. She teaches at St. Joseph's University as a Visiting Professor of English. For more information, visit kaycosgrove.com.





Nicole Caruso Garcia is Assistant Poetry Editor of Able Muse and a Board member of Poetry by the Sea: A Global Conference. Her poems are forthcoming in Crab Orchard Review, PANK, and Modern Haiku. Her work has appeared in Measure, Light, The Rotary Dial, The Orchards, The Raintown Review, Antiphon, and elsewhere. A past recipient of the Willow Review Award, she is a Pushcart Prize nominee and a fellow of the Connecticut Writing Project Invitational Summer Institute at Fairfield University. She holds a B.A in English and Religious Studies from Fairfield University and an M.S. in Education from University of Bridgeport. She resides in Connecticut, where she has taught at Trumbull High School since 2003.





Born in Arizona, Rachael Gorchov, a painter whose work spans a variety of media, mounted a solo exhibition at Owen James Gallery in Brooklyn in 2017 and a two-person exhibition at Simuvac Projects in Brooklyn in 2016. She has exhibited at Im Ersten in Vienna, Catinca Tabacaru Gallery in New York, Driscoll Babcock Galleries in New York and The Brooklyn Academy of Music (BAM). Her work and curatorial projects have been featured in Hyperallergic, the Philadelphia Inquirer and the Temple Review. She is a founding member of Tiger Strikes Asteroid New York. Gorchov received her BFA from Tyler School of Art, Temple University and her MFA from Hunter College, City University of New York. Originally from Philadelphia, Rachael lives and works in New York City.





Kelsey Ann Kerr has a great interest in loss: holes both metaphorical and physical of the heart, holes in life left by the loss of parents, cauterized by love. She teaches writing composition at the University of Maryland and American University, and holds an M.F.A. in Poetry from the University of Maryland. Her work can be found, or is forthcoming, in Slippery Elm Literary Journal, Stirring: A Literary Collection, New Delta Review, Burningword Literary Journal, Mezzo Cammin, The Sewanee Review, Cleaver, and The Atlanta Review, among others. Her poetry also has been nominated for Best of the Net 2017.





Jeanne Larsen teaches in the Jackson Center for Creative Writing at Hollins University. She is the author of two books of poetry, Why We Make Gardens [& other Poems] (Mayapple Press), and James Cook in Search of Terra Incognita (AWP series winner; U. of Virginia Press), as well as two books of translations of poems by medieval Chinese women, an e-novel, Sally Paradiso, and three print novels, Silk Road, Bronze Mirror, and Manchu Palaces. Her backtalk footnotes to Homer's Odyssey are starting to appear in various journals, some printed on paper, some not.





Susan McLean, who teaches English at Southwest Minnesota State University, has published Selected Epigrams, a collection of 503 verse translations of the satirical Latin epigrams of Martial, and The Whetstone Misses the Knife, a book that won the 2014 Donald Justice Poetry Prize. Her poems have appeared in Valparaiso Poetry Review, The Lyric, Light, Measure, and elsewhere.





Claudia Monpere's fiction and poetry appear in The Massachusetts Review, The Kenyon Review, New Ohio Review, Prairie Schooner, The Cincinnati Review, Canary, and elsewhere. Awards include a Hedgebrook Residency and the Georgetown Review Fiction Award. Claudia lives in Oakland, California, and teaches writing at Santa Clara University.





Diane Moomey has lived and wandered around the US and Canada, and now dips her gardener's hands in California dirt. A regular reader at San Francisco Bay Area poetry venues, Moomey has published prose and poetry, most recently in Peacock Journal, The Road Not Taken; Nature Writing; The Sand Hill Review, California Poetry Quarterly, Caesura ,and Red Wheelbarrow, and has been nominated for a Pushcart prize. She won first prize and an Honorable Mention in the Sonnet category of the 2016 Soul Making Keats Literary Contest, and first prize in the Creative Non-Fiction category of the same competition.





Stephanie Noble lives in San Rafael, California where she teaches insight meditation. Her poems have been published in the California Quarterly, The Buddhist Poetry Review, Light of Consciousness Magazine, The Mindful Word, Atlanta Review, IthacaLit, DoveTales, Pilgrimage Magazine (CSU - Pueblo), Temenos Journal, Marin Poetry Center Anthology 2010 - 2016; the anthology Unsilenced, the Spirit of Women and other publications. She was a 2014 Pushcart Prize nominee. A longtime member of College of Marin 'Poetic Pilgrimage' class led by Prartho Sereno, past Marin County poet laureate, she has also studied with Judyth Hill and Kim Stafford. Her website is www.stephanienoble.com.





Suzanne Noguere is the author of a book of poems, Whirling Round the Sun (Midmarch Arts Press), as well as two natural history children's books. She co-wrote the novel The Stone House, A Blues Legend with James V. Hatch. Their stage adaptation of that work, the musical play Klub Ka, The Blues Legend, has been performed at the University of Iowa, La MaMa in New York City, and the University of Maryland. She has also collaborated with artist Miriam Adams on the 30-piece art/poetry series Leaf Lines. Suzanne has received the "Discovery"/The Nation Prize, a Poetry Society of America award, and the University of Iowa Partnership in the Arts Award. She works as a copy editor in New York City. www.suzannenoguere.com.





Linda Parsons is a poet and playwright and an editor at the University of Tennessee in Knoxville. She is the reviews editor at Pine Mountain Sand & Gravel, a supporting editor of New Millennium Writings, and has contributed to Georgia Review, Iowa Review, Prairie Schooner, Southern Poetry Review, Shenandoah, Ted Kooser's syndicated column American Life in Poetry, and other journals and anthologies. Her most recent poetry collection is This Shaky Earth. Work is forthcoming in The Chattahoochee Review, Cold Mountain Review, Southern Humanities Review, and New Madrid.





Samantha Pious is studying Comparative Literature at the University of Pennsylvania. Her first book, A Crown of Violets (Headmistress Press, 2015), offers a selection of the poetry of Renee Vivien in translation. Some of her other translations and poems have appeared in Adrienne, The Berkeley Poetry Review, Lavender Review, Mezzo Cammin, and other publications.





Barbara Quick is a poet, novelist and journalist based in the Wine Country of Northern California. She's the author of three novels, including the critically acclaimed title from HarperCollins, Vivaldi's Virgins (2007), which is still in print and has been translated into 15 languages. Poems of hers have recently been featured in YourDailyPoem, Poets&Artists, Gambazine, the Annals of Internal Medicine, and Hospital Drive. There's more at her website, www.BarbaraQuick.com. You can visit her blog at askthewriter.blogspot. com.





Leslie Schultz (Northfield, Minnesota) is the author of two collections of poetry, Still Life with Poppies: Elegies (Kelsay Books, 2016) and Cloud Song (Kelsay Books, 2018). Her poetry, fiction, and essays have appeared in Able Muse, Light, Mezzo Cammin, Swamp Lily Review, Poetic Strokes Anthology, Third Wednesday, The Madison Review, The Midwest Quarterly, The Orchards, and The Wayfarer; in the sidewalks of Northfield; and in a chapbook, Living Room (Midwestern Writers' Publishing House). She has twice had winning poems in the Maria W. Faust sonnet contest (2013, 2016). Schultz is also the author of two middle-grade novels featuring a home-schooled main character: The Howling Vowels (2011) and And Sometimes Y (2013), both from Do Life Right Press. She posts poems, photographs, and essays on her website: www.winonamedia.net.





Sofia M. Starnes, Virginia's Poet Laureate from 2012 to 2014, is the author of five poetry collections and editor of two poetry anthologies. She is the recipient of various poetry awards, including a Poetry Fellowship from the Virginia Commission for the Arts, the Rainer Maria Rilke Poetry Prize, Editor's Choice in Pavement Saw's Transcontinental Poetry Prize, the Whitebird Poetry Series Prize, and four Pushcart Prize nominations. Her poetry has appeared in such journals as The Notre Dame Review, The William & Mary Review, The Laurel Review, The Southern Poetry Review, among others. Her first full-length collection, A Commerce of Moments, was named Poetry Honor Book by the Library of Virginia in the year of its publication. In 2013, she was awarded an Honorary Doctorate of Letters degree by Union College, Kentucky. Currently, Sofia serves as Poetry Editor and Poetry Book Review Editor of The Anglican Theological Review. Her next book, The Consequence of Moonlight, is forthcoming from Paraclete Press.





Myrna Stone is the author of five full-length books of poetry: Luz Bones, released this past spring from Etruscan Press; In the Present Tense: Portraits of My Father, a Finalist for the 2014 Ohioana Book Award in Poetry; The Casanova Chronicles, a Finalist for the 2011 Ohioana Book Award in Poetry; How Else to Love the World; and The Art of Loss, for which she was named 2001 Ohio Poet of the Year. She has received two Ohio Arts Council grants in Poetry, a Full Fellowship to Vermont Studio Center, and the 2002 Poetry Award from Weber, The Contemporary West. In 2015 Stone presented five morning lectures on Poetry as a member of the faculty of the Antioch Writers' Workshop. Her poems have been featured on Poetry Daily, Verse Daily, and Every Day Poems, and have appeared in such journals as Poetry, Ploughshares, Boston Review, TriQuarterly, The Massachusetts Review, Nimrod, River Styx and Southwest Review.





A high school English teacher, Katherine Barrett Swett lives in New York City with her husband and two sons. She received a PhD in American Literature from Columbia University. Her poems have been published or are forthcoming in various journals including, The Lyric, Rattle, and The Raintown Review. One of her sonnets was chosen as a finalist in the 2016 Nemerov Contest. Her chapbook, Twenty-one was published in 2016.





Marly Youmans is the author of thirteen books of poetry and fiction. Find her at www.thepalaceat2.blogspot.com.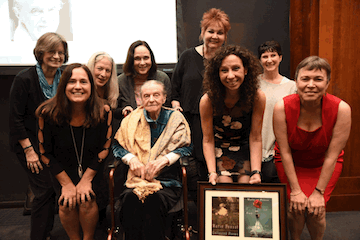 The most recent addition to The Mezzo Cammin Women Poets Timeline is Rosa Newmarch by Jean L. Kreiling.
Marie Ponsot was presented with a Lifetime Achievement Award at the Celebration of the Timeline reaching 75 essays, Lincoln Center, Fordham University (Sponsored by Fordham's Curran Center) Friday, October 20th, 2017.
Charlotte Innes is the recipient of the 2018 Mezzo Cammin Scholarship to the Poetry by the Sea conference.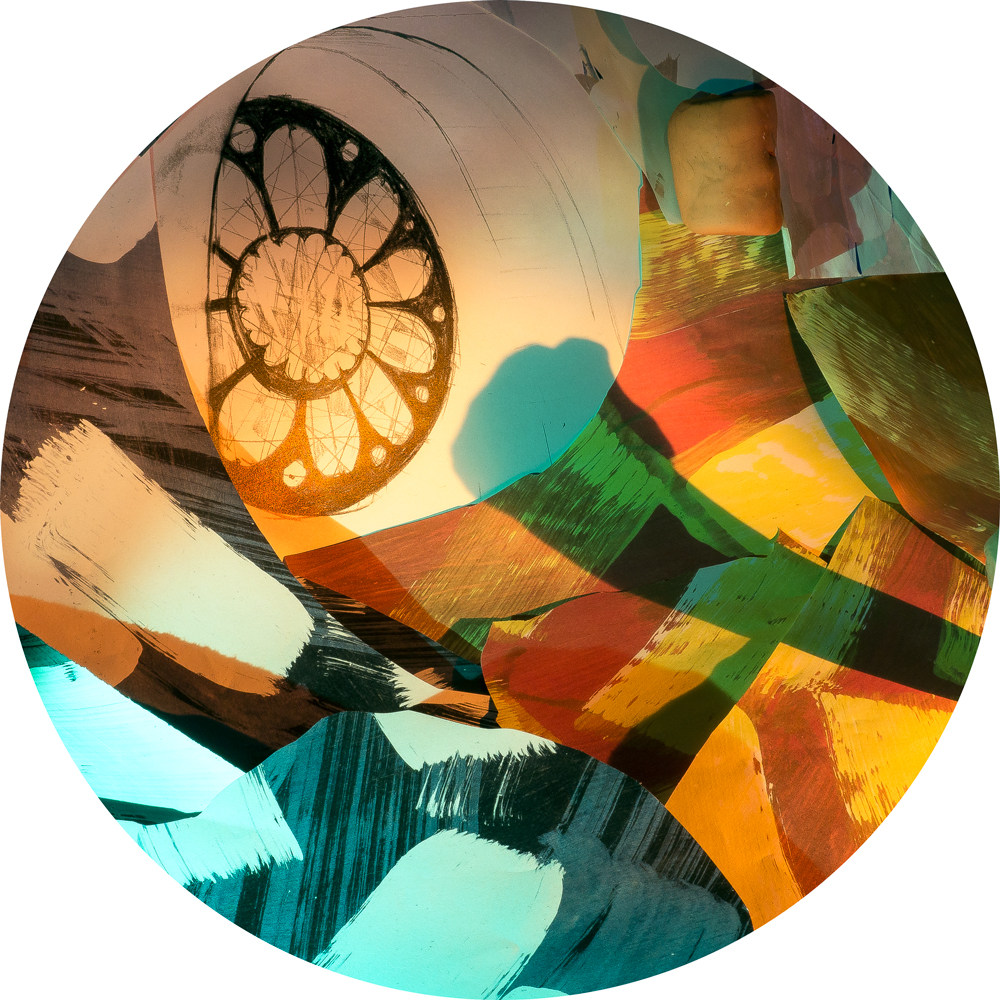 Rachael Gorchov: Recently I completed a body of work that focused on the landscapes that define suburban office and industrial complexes, contemplating their subtle relationships with the history of landscape painting. When looking at these places I saw English landscape gardens – orchestrated nature that gave way to picturesque landscape painting. I documented my subjects onsite by drawing their reflections in a Claude Glass, a convex black mirror popularized as an observation device in the 18th century. This tool appealed to me for how its skews and bulges its reflection, making my work highly subjective from the start. I then constructed paintings in the studio based on these drawings. The three-dimensional nature of my paintings further emphasized the forced perspective in my initial drawings and required viewers to explore the paintings much like they might explore a physical space by moving around, crouching and craning their necks.

Irregular versions of geometric forms such as cubes, parabolic curves, cones and triangles comprised the dimensional shapes of these pieces and eventually gave way to my working nearly exclusively on concave surfaces and 'rocks with cast shadows.' I settled on these structures for a few reasons. When a viewer stands directly in front of the concave works, irregular half-spheres with the convex side attached to the wall, the paintings fill their peripheral vision for an immersive experience. The rocks and shadows, amorphous objects paired with adhesive-backed prints, are reminiscent of portals and geologic abrasions. They invite viewers to question if the dimensional form is emerging from or entering into another space. Like in other works, these pieces frame the physical space the artworks inhabit.

In 2016, I visited Europe where I recognized parallels between the interiors of Renaissance spaces and my own paintings, such as the power that foreshortening possesses in its ability to collapse and intensify space in cathedrals– similar to my Claude Glass works. This experience coincided with a visit to an exhibition in Vienna featuring renderings of synagogues that once stood in the city. This piqued an interest in contemplating architectural space in my work and prompted me to consider architectural language in my own Jewish cultural heritage. I then began a series of tondos, a Renaissance term for circular artworks, of European Jewish architecture.

Beginning with paintings and mixed-media, in these works I build a photographic image that engages the space wherever it is installed, becoming part of the architecture. I arrived at the tondo format through my own history of making non-rectangular paintings, and appreciate its relationship to reliefs and rose windows found in synagogues and cathedrals. In gathering source imagery, I rely heavily on documentation – photographs and engravings as most of these buildings have been destroyed. I contemplate the collective memory images of architectural space can reveal. In this spirit, this work depicts layered environments where scale, color and depth shift ambiguously, revealing experiential space.

I consistently begin works by looking at a particular subject because of an art historical or personal association, and then through a process of extracting details from their surroundings using an accumulation of marks, color and a tactility, I sacrifice specificity of form and place, ultimately revealing a specificity of experience as my subject.