Leslie Schultz






Two Voices in a Starbucks




For Richard Wilbur

Coffee

I grow on mountain slopes
cooled by the breath of God,
a rosy, cozy berry.
My bean outshines its pod.
I submit to fire and blade.
My flavor is my yield.
Drop by drop, I offer up
the fragrance of the field.

Tea

My legend says the Buddha
refused his mountain sleep
by cutting off his eyelids:
these leaves you wake to steep.
Thanks to India and China
the world can now create
my delicate, leafy brew
to sip, to meditate.




Echo from Hug Point




For My Father

Still I hear your gruff, sanserif voice sound
in my house, a scratching in the woodwork
like a deathwatch beetle who cannot be found
or silenced. These smallest memories irk.

Your no-frills words, spare of philosophy,
shallow as sand dollars, lie in my mind,
where your Oregonian geography—
internal, wind-swept, bleak—scours me blind.

Side by side, we picked our most awkward way
along Hug Point where unforgiving surf
still pounds. I think you were trying to say
something to aid unborn tides of grief

when you gestured, like a teacher at school,
to urchins submerged in that tidal pool.




Speed on to Spica



Here is a vexing truth I long to find:
is it a metaphor for my own mind,
that streetlamp across the way, winking on
and off—all night, every night—at random?

Why shouldn't perceptions flux in clarity?
Breathe light in and exhale draughts of Lethe;
or, choking on some ancient Stygian gloom,
exhale insights to radiate the room?

Streetlamps are intermittently defective,
at times occasioning a choice invective
at damaged, city-managed circuitry.
Whom can I rail against to protest me?

My own mind a minor mystery. Yet, there we are:
not Acturus. Just one quite variable star.




Magnetic Letters




For Julia

Years after you learned to spell your first name,
your father and I clean behind the stove.
Here are those missing letters, just the same—
ketchup red, school bus gold, popsicle mauve—

as when they first roamed away from their friends.
Here is "A," wellspring of the alphabet,
dusty but intact. Unknowable "X' lends
extra mystery, sticky and slightly wet,

as though it leaps off sea-swept treasure maps.
And here is "V," symbol of victory
or signaling inserted thoughts, perhaps,
of birth and youth and swift maturity.

Our kitchen archaeology can tell
how letters will be lost but lives lived well.




For My Daughter, Leaving Home



I watch the inky soarings of one starling
against the rock-blue wall of falling night
and think how you, my lively, mortal darling,
are perched on your own edge of solo flight.

Night falls so many times to make a life.
Each new day one shimmering page must turn.
What will you seek? There will be hurt and strife,
but may you find what makes joy leap and burn

in your awakening heart, find help to know
why you were born on this perplexing earth,
and how to make your mark, then let it go—
all of it, everything you've helped to birth—

allowing your dreams to flicker from your sight,
knowing they're borne up on their own delight.



AUTHOR BIO
Leslie Schultz (Northfield, Minnesota) is the author of two collections of poetry, Still Life with Poppies: Elegies (Kelsay Books, 2016) and Cloud Song (Kelsay Books, 2018). Her poetry, fiction, and essays have appeared in Able Muse, Light, Mezzo Cammin, Swamp Lily Review, Poetic Strokes Anthology, Third Wednesday, The Madison Review, The Midwest Quarterly, The Orchards, and The Wayfarer; in the sidewalks of Northfield; and in a chapbook, Living Room (Midwestern Writers' Publishing House). She has twice had winning poems in the Maria W. Faust sonnet contest (2013, 2016). Schultz is also the author of two middle-grade novels featuring a home-schooled main character: The Howling Vowels (2011) and And Sometimes Y (2013), both from Do Life Right Press. She posts poems, photographs, and essays on her website: www.winonamedia.net.
POETRY CONTRIBUTORS

Michelle Blake

Erica Charis-Molling

Kay Cosgrove (Featured Poet)

Anna M. Evans

Nicole Caruso Garcia

Kelsey Ann Kerr

Jeanne Larsen

Susan McLean

Claudia Monpere

Diane Moomey

Stephanie Noble

Suzanne Noguere

Linda Parsons

Samantha Pious

Barbara Quick

Leslie Schultz

Sofia Starnes

Myrna Stone

Katherine Barrett Swett

Marly Youmans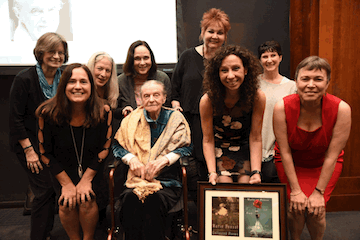 The most recent addition to The Mezzo Cammin Women Poets Timeline is Rosa Newmarch by Jean L. Kreiling.
Marie Ponsot was presented with a Lifetime Achievement Award at the Celebration of the Timeline reaching 75 essays, Lincoln Center, Fordham University (Sponsored by Fordham's Curran Center) Friday, October 20th, 2017.
Charlotte Innes is the recipient of the 2018 Mezzo Cammin Scholarship to the Poetry by the Sea conference.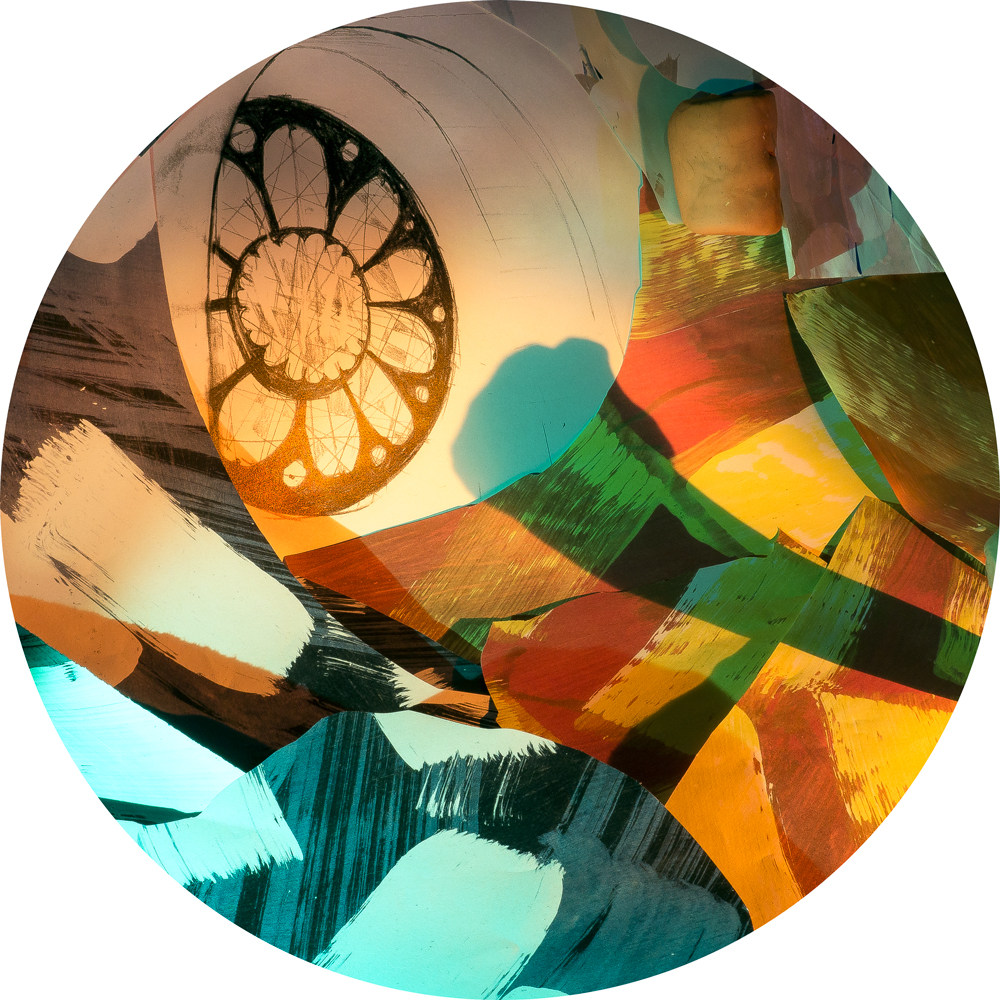 Rachael Gorchov: Recently I completed a body of work that focused on the landscapes that define suburban office and industrial complexes, contemplating their subtle relationships with the history of landscape painting. When looking at these places I saw English landscape gardens – orchestrated nature that gave way to picturesque landscape painting. I documented my subjects onsite by drawing their reflections in a Claude Glass, a convex black mirror popularized as an observation device in the 18th century. This tool appealed to me for how its skews and bulges its reflection, making my work highly subjective from the start. I then constructed paintings in the studio based on these drawings. The three-dimensional nature of my paintings further emphasized the forced perspective in my initial drawings and required viewers to explore the paintings much like they might explore a physical space by moving around, crouching and craning their necks.

Irregular versions of geometric forms such as cubes, parabolic curves, cones and triangles comprised the dimensional shapes of these pieces and eventually gave way to my working nearly exclusively on concave surfaces and 'rocks with cast shadows.' I settled on these structures for a few reasons. When a viewer stands directly in front of the concave works, irregular half-spheres with the convex side attached to the wall, the paintings fill their peripheral vision for an immersive experience. The rocks and shadows, amorphous objects paired with adhesive-backed prints, are reminiscent of portals and geologic abrasions. They invite viewers to question if the dimensional form is emerging from or entering into another space. Like in other works, these pieces frame the physical space the artworks inhabit.

In 2016, I visited Europe where I recognized parallels between the interiors of Renaissance spaces and my own paintings, such as the power that foreshortening possesses in its ability to collapse and intensify space in cathedrals– similar to my Claude Glass works. This experience coincided with a visit to an exhibition in Vienna featuring renderings of synagogues that once stood in the city. This piqued an interest in contemplating architectural space in my work and prompted me to consider architectural language in my own Jewish cultural heritage. I then began a series of tondos, a Renaissance term for circular artworks, of European Jewish architecture.

Beginning with paintings and mixed-media, in these works I build a photographic image that engages the space wherever it is installed, becoming part of the architecture. I arrived at the tondo format through my own history of making non-rectangular paintings, and appreciate its relationship to reliefs and rose windows found in synagogues and cathedrals. In gathering source imagery, I rely heavily on documentation – photographs and engravings as most of these buildings have been destroyed. I contemplate the collective memory images of architectural space can reveal. In this spirit, this work depicts layered environments where scale, color and depth shift ambiguously, revealing experiential space.

I consistently begin works by looking at a particular subject because of an art historical or personal association, and then through a process of extracting details from their surroundings using an accumulation of marks, color and a tactility, I sacrifice specificity of form and place, ultimately revealing a specificity of experience as my subject.