Michelle Blake






Julian of Norwich



(Four sections from the Julian of Norwich series)

iv

Sixteen shewings he sent, proof of such might
and homely grace and good that I did
doubt my wretched mind and sight
and sense, but would behold as I was bid.
A little thing, the size of a hazel nut
and round as any ball. Yet so small
I marveled it did not disappear. What
I saw whirled with the aged glory of all
the thunder and the stars. Ah, she said,
Milady drawing near, it is the earth
and all that we have done and loved and made,
the holy world to which we still give birth.
Mark well that she was grand beyond that sight,
for next to her the world itself seemed slight.

vi

"Let women keep silence in churches, for…"
for what, I ask, did God then fill my body
with these words? And more than words, such more
that soon o'erflowed the bounds of womanly
meekness, of which I now have none. They teach
of sin, of pride, shame, death, but my Lord,
my Christ, my Mother dear blames none, teaches
but love. You wish me mum? I ask. Tell Her.
Make Her no more let loose the winds that shake
th'unfastened shutters of my soul. Let Him
not send more wisdom in that wind. Aye make
it stop. And I no more will sing this hymn—
Glory to God, the Son and Mother
who gather us in to love and love and love and love hereafter.

x

They think I see their fates when all I see
is them, light and dark in equal measure,
at least in most. In some, naught but an empty
pouch of air and pride and that confession
rendered when they know not what they tell.
I have little sympathy. I am old
and growing tired of human souls that dwell
so much upon their saintliness. All souls
are loved by God, 'tis true, there is no hell,
and yet in truth I often believe there should
be one for these new Pharisees who swell
themselves like holy cocks, yet do no good.
And so in my contempt I fail my Love
who doth through love my bitterness remove.

On this my final day

On this my final day I take my heart
and offer it, like sweetmeat, on a plate
as at the feast we offer the first part
to Her, there at the head, who turns and waits
and holds out her own hand as thus, and thus,
a touch a mother offers her first child
when each one is her first. See! There for us
she stands at the far gate. Oh I am wild
with this new pain of roses on the skin,
and I am young, a prince, yet do I know
such meekness that will turn the outside in
and all the universes overthrow.
Here. Listen now. Such secrets do I learn,
such pain and such release, such mercy pain child man, such sky and
ground, such
wildness in my side, such mother god pain mercy sky love
oh my heart doth burn





Catherine of Siena



I am Catherine but have three voices
in me. At first they had no names. I named them
Aldo, the old one who would wound my flesh,
Lupa, the she-wolf who would silence me,
Sophia, the one who speaks through me but is
not all of me. It is she who called
the spirit down to roost outside my cell
and led me to the garden. She who offered me
in marriage to the Virgin and her Son,
who bled my father's heart of pride and turned
him to me, showed to him the dove that flies
inside my prayers and carries them to God.

I am Catherine but have five voices
in me, the fourth my sister Giovanna,
my lost twin who died at birth. At death
she came inside and waited. She lives here
in my gut and twists it closed, she tightens
like a fist. She is perhaps the queen.
She would speak when I am silent. She would
pray when I would sleep. When I would rest
she works. To her the others bow, like slaves.

Inside me is a catacomb of cells.
Inside each cell, a voice. Inside each voice
a lamp that flickers in and out. I hear them
as a choir of flame. Each sings to me
a name, each sings a hymn, each knows
a piece of what we shall become.

Buonaventura, my beloved, suffered
on the rack of childbirth for my sins.
I see her now a saint in heaven who calls
to me. But I had put her first and so
the old one, Aldo, wound me round like thread
upon a spool of love and stretched my marrow
almost to the breaking point. In pain
there is a sheaf of fire, a tare that blinds
me to the petty rest of life and lights
up only oh my God my God



AUTHOR BIO
Michelle Blake has published poetry and essays in Tin House, The New York Times, Ploughshares, Southern Review, Solstice Literary Magazine, MORE Magazine, Ladies Home Journal, Parents and others. Her essay "A Fable for Our Times" won the Solstice Nonfiction Award for 2015. She has also published three critically acclaimed novels—The Tentmaker, Earth Has No Sorrow and The Book of Light (Putnam Penguin). Her chapbook of poems, Into the Wide and Startling World, was awarded publication in the New Women's Voices competition in 2012 (Finishing Line Press). In 2014, her collaborative project with photo-montage artist Fran Forman, Escape Artist, was published by Schiffer. In 2017 she was a Resident Writer at the Siena Arts Institute, and she has twice received residency grants at Vermont Studio Center. In addition, she has taught writing at Goddard College, Stanford University and Tufts University and directed both the Goddard MFA and Warren Wilson MFA programs. See her website at www.michelleblakewriter.com.
POETRY CONTRIBUTORS

Michelle Blake

Erica Charis-Molling

Kay Cosgrove (Featured Poet)

Anna M. Evans

Nicole Caruso Garcia

Kelsey Ann Kerr

Jeanne Larsen

Susan McLean

Claudia Monpere

Diane Moomey

Stephanie Noble

Suzanne Noguere

Linda Parsons

Samantha Pious

Barbara Quick

Leslie Schultz

Sofia Starnes

Myrna Stone

Katherine Barrett Swett

Marly Youmans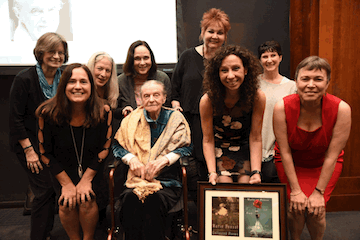 The most recent addition to The Mezzo Cammin Women Poets Timeline is Rosa Newmarch by Jean L. Kreiling.
Marie Ponsot was presented with a Lifetime Achievement Award at the Celebration of the Timeline reaching 75 essays, Lincoln Center, Fordham University (Sponsored by Fordham's Curran Center) Friday, October 20th, 2017.
Charlotte Innes is the recipient of the 2018 Mezzo Cammin Scholarship to the Poetry by the Sea conference.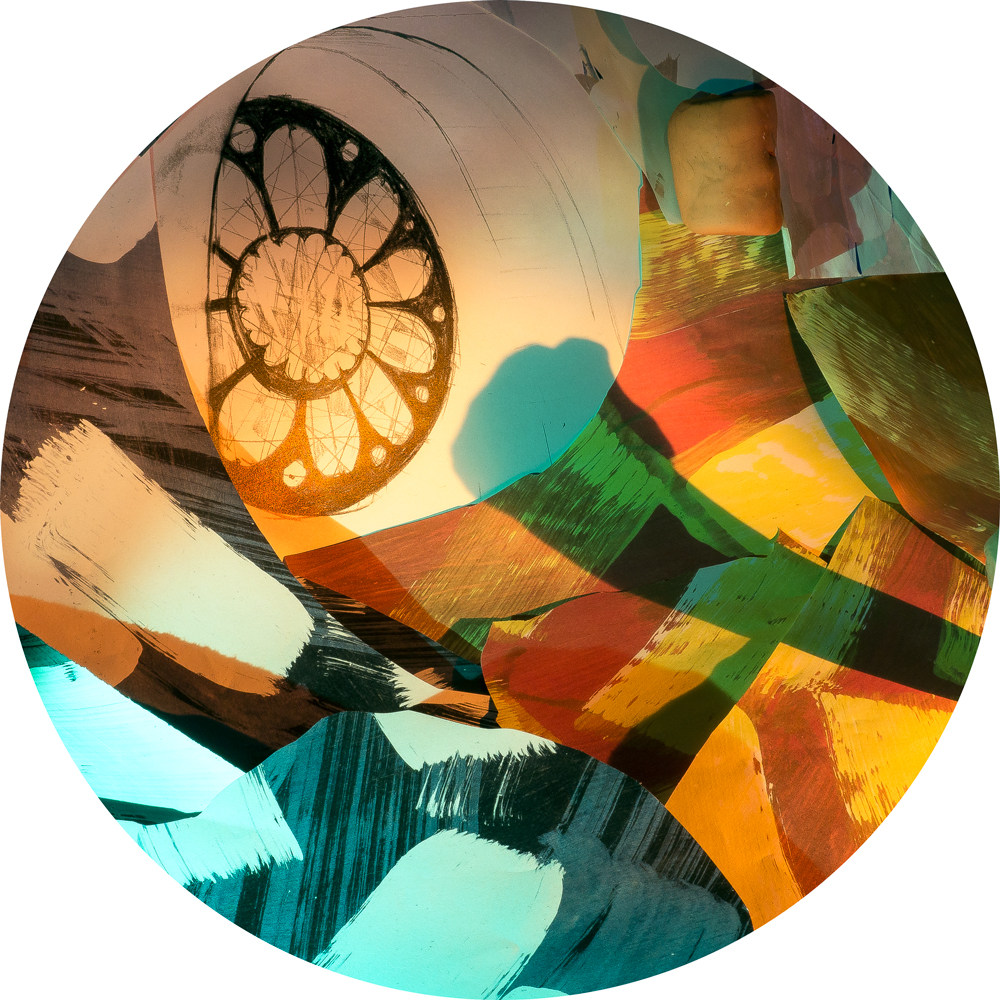 Rachael Gorchov: Recently I completed a body of work that focused on the landscapes that define suburban office and industrial complexes, contemplating their subtle relationships with the history of landscape painting. When looking at these places I saw English landscape gardens – orchestrated nature that gave way to picturesque landscape painting. I documented my subjects onsite by drawing their reflections in a Claude Glass, a convex black mirror popularized as an observation device in the 18th century. This tool appealed to me for how its skews and bulges its reflection, making my work highly subjective from the start. I then constructed paintings in the studio based on these drawings. The three-dimensional nature of my paintings further emphasized the forced perspective in my initial drawings and required viewers to explore the paintings much like they might explore a physical space by moving around, crouching and craning their necks.

Irregular versions of geometric forms such as cubes, parabolic curves, cones and triangles comprised the dimensional shapes of these pieces and eventually gave way to my working nearly exclusively on concave surfaces and 'rocks with cast shadows.' I settled on these structures for a few reasons. When a viewer stands directly in front of the concave works, irregular half-spheres with the convex side attached to the wall, the paintings fill their peripheral vision for an immersive experience. The rocks and shadows, amorphous objects paired with adhesive-backed prints, are reminiscent of portals and geologic abrasions. They invite viewers to question if the dimensional form is emerging from or entering into another space. Like in other works, these pieces frame the physical space the artworks inhabit.

In 2016, I visited Europe where I recognized parallels between the interiors of Renaissance spaces and my own paintings, such as the power that foreshortening possesses in its ability to collapse and intensify space in cathedrals– similar to my Claude Glass works. This experience coincided with a visit to an exhibition in Vienna featuring renderings of synagogues that once stood in the city. This piqued an interest in contemplating architectural space in my work and prompted me to consider architectural language in my own Jewish cultural heritage. I then began a series of tondos, a Renaissance term for circular artworks, of European Jewish architecture.

Beginning with paintings and mixed-media, in these works I build a photographic image that engages the space wherever it is installed, becoming part of the architecture. I arrived at the tondo format through my own history of making non-rectangular paintings, and appreciate its relationship to reliefs and rose windows found in synagogues and cathedrals. In gathering source imagery, I rely heavily on documentation – photographs and engravings as most of these buildings have been destroyed. I contemplate the collective memory images of architectural space can reveal. In this spirit, this work depicts layered environments where scale, color and depth shift ambiguously, revealing experiential space.

I consistently begin works by looking at a particular subject because of an art historical or personal association, and then through a process of extracting details from their surroundings using an accumulation of marks, color and a tactility, I sacrifice specificity of form and place, ultimately revealing a specificity of experience as my subject.