Sofia M. Starnes






Whole



Elena sets a napkin and a fork,
her plate, a tulip in between, and lastly,
on the cloth, a plastic spoon.

They wink and let her do.
How well she plays the solemn maître d';
how like a stork—part ancient, part

anew—their baby.
Mull less, mind more; she sets the table best
with bursts of energy, bounce of arrest

on her unfinished feet.
She's heard the spin: God whistles
with a countermelody, a message from a lithe

and lasting throat on brittle bones, on sainthood—
And yet, the only words she loves are
wince and win. One cell pirouettes;

a second cell runs through the startling
hymn. A blush, a spark, a fusion: tip-top life.
Elena sets white napkins in the dark. 




The Ways of Touch



Here's how you know the urgency of touch:
one day you see a nest about to fall and fledgling birds

turn tiny wings upwind: a breeze at hand to bear them
to new houses. In this,

a near assurance that we meet, that every cedar felled
against the green may grow into a township. In coastal

cells, in rows, a cluster of inhabitants, their kiss…
A woman bears a basket on her head; from daily,

heavy laundering she comes, her palms up high,
the late sun tracking notions: a husband's shirt, a skirt,

a blanket for their baby. And though the rigors
of their village toils are past, the ways of touch persist.

Glass often breaks to smithereens, a crystal screen
may crack against a thumb; from dust to dust, again:

dispersals… And still—between restrain and urgency—
you are the child a woman blanketed each night,

the one who would not hurry. And she, the mother
for whose arms, all hours, you cried.




Where the Clover



A sparrow does what sparrows
do: a chirp, a hop, a swoop:
no more.
To say the lamb
fulfills its fold

by being, more than ewe, a hope,
gives wisdom
that the wool has not:
the lamb goes
where the clover.

And then there's this:
the dawdling dove,
white wingtips and her red-ring
eyes,
a harbinger of peace.

She bears peace
like a contraband—slick carrier,
tongue against her beak—
no wiser
than the dawn or dusk.

Come,
see the sky the moon the sun,
the non-erroneous olive
branch
that falls on human hearts,

and, too,
the quintessential bird and bloom,
who do not know the good they do,
or wonder how
the good gets done.




AUTHOR BIO
Sofia M. Starnes, Virginia's Poet Laureate from 2012 to 2014, is the author of five poetry collections and editor of two poetry anthologies. She is the recipient of various poetry awards, including a Poetry Fellowship from the Virginia Commission for the Arts, the Rainer Maria Rilke Poetry Prize, Editor's Choice in Pavement Saw's Transcontinental Poetry Prize, the Whitebird Poetry Series Prize, and four Pushcart Prize nominations. Her poetry has appeared in such journals as The Notre Dame Review, The William & Mary Review, The Laurel Review, The Southern Poetry Review, among others. Her first full-length collection, A Commerce of Moments, was named Poetry Honor Book by the Library of Virginia in the year of its publication. In 2013, she was awarded an Honorary Doctorate of Letters degree by Union College, Kentucky. Currently, Sofia serves as Poetry Editor and Poetry Book Review Editor of The Anglican Theological Review. Her next book, The Consequence of Moonlight, is forthcoming from Paraclete Press.
POETRY CONTRIBUTORS

Michelle Blake

Erica Charis-Molling

Kay Cosgrove (Featured Poet)

Anna M. Evans

Nicole Caruso Garcia

Kelsey Ann Kerr

Jeanne Larsen

Susan McLean

Claudia Monpere

Diane Moomey

Stephanie Noble

Suzanne Noguere

Linda Parsons

Samantha Pious

Barbara Quick

Leslie Schultz

Sofia Starnes

Myrna Stone

Katherine Barrett Swett

Marly Youmans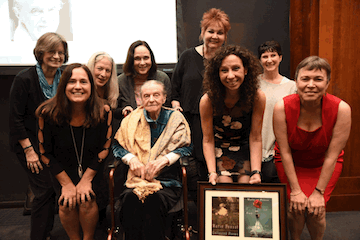 The most recent addition to The Mezzo Cammin Women Poets Timeline is Rosa Newmarch by Jean L. Kreiling.
Marie Ponsot was presented with a Lifetime Achievement Award at the Celebration of the Timeline reaching 75 essays, Lincoln Center, Fordham University (Sponsored by Fordham's Curran Center) Friday, October 20th, 2017.
Charlotte Innes is the recipient of the 2018 Mezzo Cammin Scholarship to the Poetry by the Sea conference.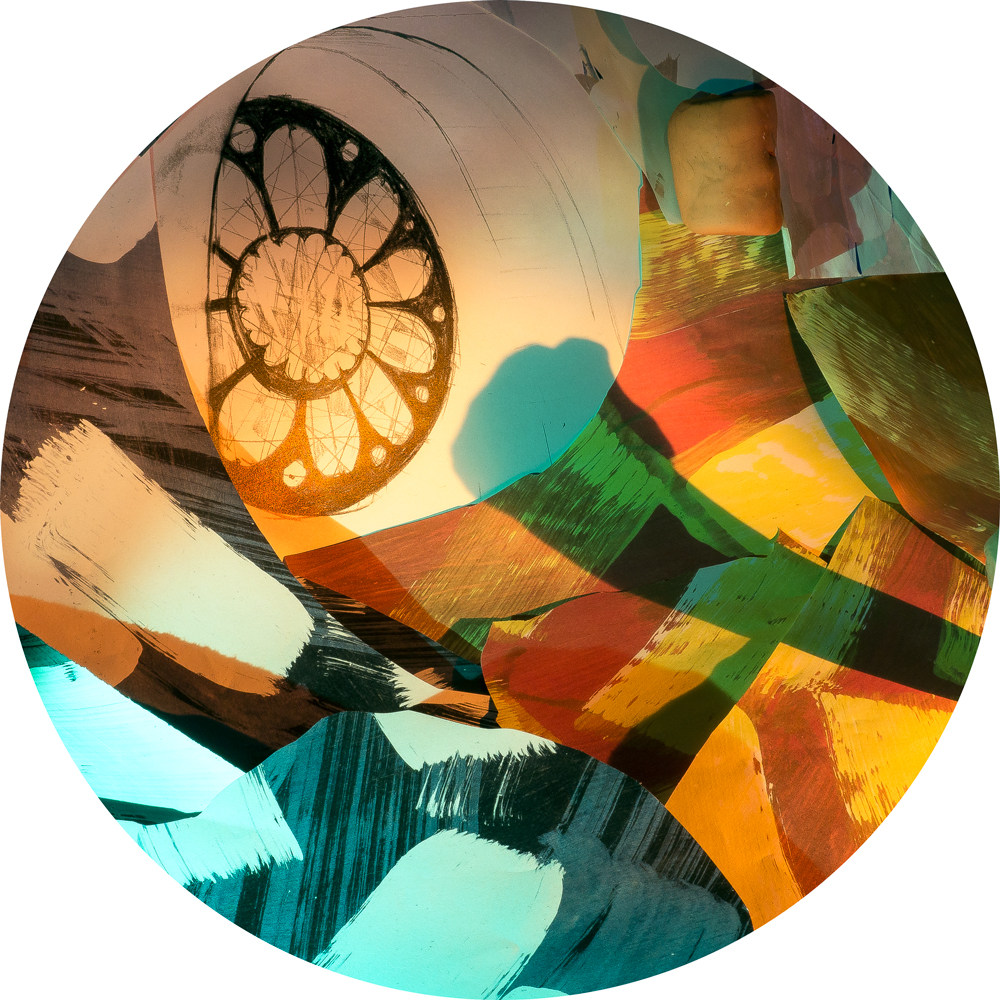 Rachael Gorchov: Recently I completed a body of work that focused on the landscapes that define suburban office and industrial complexes, contemplating their subtle relationships with the history of landscape painting. When looking at these places I saw English landscape gardens – orchestrated nature that gave way to picturesque landscape painting. I documented my subjects onsite by drawing their reflections in a Claude Glass, a convex black mirror popularized as an observation device in the 18th century. This tool appealed to me for how its skews and bulges its reflection, making my work highly subjective from the start. I then constructed paintings in the studio based on these drawings. The three-dimensional nature of my paintings further emphasized the forced perspective in my initial drawings and required viewers to explore the paintings much like they might explore a physical space by moving around, crouching and craning their necks.

Irregular versions of geometric forms such as cubes, parabolic curves, cones and triangles comprised the dimensional shapes of these pieces and eventually gave way to my working nearly exclusively on concave surfaces and 'rocks with cast shadows.' I settled on these structures for a few reasons. When a viewer stands directly in front of the concave works, irregular half-spheres with the convex side attached to the wall, the paintings fill their peripheral vision for an immersive experience. The rocks and shadows, amorphous objects paired with adhesive-backed prints, are reminiscent of portals and geologic abrasions. They invite viewers to question if the dimensional form is emerging from or entering into another space. Like in other works, these pieces frame the physical space the artworks inhabit.

In 2016, I visited Europe where I recognized parallels between the interiors of Renaissance spaces and my own paintings, such as the power that foreshortening possesses in its ability to collapse and intensify space in cathedrals– similar to my Claude Glass works. This experience coincided with a visit to an exhibition in Vienna featuring renderings of synagogues that once stood in the city. This piqued an interest in contemplating architectural space in my work and prompted me to consider architectural language in my own Jewish cultural heritage. I then began a series of tondos, a Renaissance term for circular artworks, of European Jewish architecture.

Beginning with paintings and mixed-media, in these works I build a photographic image that engages the space wherever it is installed, becoming part of the architecture. I arrived at the tondo format through my own history of making non-rectangular paintings, and appreciate its relationship to reliefs and rose windows found in synagogues and cathedrals. In gathering source imagery, I rely heavily on documentation – photographs and engravings as most of these buildings have been destroyed. I contemplate the collective memory images of architectural space can reveal. In this spirit, this work depicts layered environments where scale, color and depth shift ambiguously, revealing experiential space.

I consistently begin works by looking at a particular subject because of an art historical or personal association, and then through a process of extracting details from their surroundings using an accumulation of marks, color and a tactility, I sacrifice specificity of form and place, ultimately revealing a specificity of experience as my subject.