Jeanne Larsen






Boneheaded Agamemnon Never Heard



what I, Kassandra, tell you: petrels, gull-specks.
Surf wails to the lustering estuary (hoard),
a hymn (of reeds & sorrows) to the bed god. Streams
offer no consolations, only bring
more water to this froth-knot salt pit. Well then,
I'll crave (hard earth) that savor. Mother watches:

in Agamemnon's commanding ship, I'm taken
off. A king's bed? Piss on it! Bleed in it. I did.
Little Aias bloodied me (sickle moon)
first. I preferred my body under its own
rule, clutched the sea-gaze (statuesque) virgin's form.
He clutched my hips. Mother, queen to a city
flaring. Soon a doggish islander's slave. What
wave is this? Crowning, heaped—




What wave, this? An outline smalling. Brother's
slave-heaped mound. Dogged stronghold on Troy's rock,
sharded. People sang & pulled the battering
-stallion of foul Odysseus. Spit-mouthed goatherds
know nothing of breeding horses, for all of Helen's
prophecies & bathing. Then Little Aias
clutched (wrenched sky) & gored. They sang through angled
streets, soon gutted. I know I'm mad, an ocean

(diphthong howling) god-stirred in me, the shrine-thief
rock-split. None believed me & you who hear
me believe me
smoke. Believe my plumes
& honey, myrrh. Believe me sweat & mountain
snow now, where victor-bays—




Where now, the honey, barley, myrrh, the snow-sweat
racecourse, baths, the pastures stretched unscorched.
I'm not quizzing. Where's heart's sister, comfortless
Andromache, bawling out to our brother-husband's
grave as that ship cast off, sent to grace
a lethal shield-proud house, her little pyre-bird

baseward (wingless) thrown, the hero's perilous
son, sacrifice to their rude war on disquiet,
his downy arms their feast. As, anatolian,
veiled, are we. Terror? Their own, then. A great
thirst's tree-peak, garland, their guilt & certain knowledge:
land-snatch, captive-cargoes, stern yokes wealth them.
(Is there a god styled Misery?) Their terror's
diadem, a wheeling war—




A goddess, stylish Misery, wheeled there.
They dagger-danced, those circleted devotees,
in the reaping groves of back lanes, courtyards. Ea,
this galley tacks though a tremorous wind. Where's Helen,
sold for an apple, to Aphrodite's toy-boy.
Her curse is the murky draw (a cave) in frighty
men, of incompletion. Daughter of Zeus?
Say, rape-begotten girl. What kindness, Leda's,

to birth a child unwanted, I dare question.
Ask the 1000s pierced. Then take me (soonest,
best) to where we'll live at ease: chaste Helen,
Andromache blithe, my mother indifferent, merry.
I (wits sharp) with the curseless self-composure
of the queen (look! birds!) I might—




If I composed myself, a queen, I'd call
an Odysseus-curse on Menelaus: may
he come late home & live long, doting, half
-knowing, nights, his Helen in other husbands'
arms. May Ithaca's bully wonder too,
in time (that shaft & barb), about the 10

+ 10 when with the prevailing, Penelope ran.
I might have run with a Phrygian prince. Might have
been a stormy hawk. Blonde war bride Briseis,
Agamemnon swore he never took—
saving Achilles' honor. Briseis, given
away like fancy armor, after. A curse
on Menelaus' brother. He catches me hard. I
see & I drown in what I know—




What do I see, what know? A gold corona
that each night drowns. Reef-caught bodies, homebound
Greeks who outraged virgin Wisdom's Troian
shrine. Anhingas darting. Oceanid storm petrels'
batlike flight. A float of waxy leaves.
Another campaign, where what will be Syria
will be. A man in Athene's war-sick city,
who'll make of stiff-masked me, their spectacle.

I'll shriek: Look, birds! Now Agamemnon's (his
wife's beloved's) harbor heaves into view
from this tented (dog-fish) deck. A hillside watcher's
heels flash pale. Refraction slews after.
My voice is a mist. Slam me, betrayers. Pinion
me, leaf-wreathed, guilt-less, freeing—




To free me, misting Agamemnon will slam
hands ninny-innocent on the leafless dirt,
will try to stop a chthonic knife, will wrench
it out (a close-haul sail) of his beaten-gold
guts, try blocking the fury-lust of feather
-eyed Klytemestra (ea, backing wind) as she takes me

to shadow-beautiful Hades—more at least
than this realm. Quittance is it, to live in poems?
Does it cost out, generations, gulls,
amused, my notched-blade belly your masque? I have
to tell this over & over, in echo & echo,
an ever-sea whose sound resounds its tumble
& circlet, a wail-hoard's luster & saline land's
diminishment: I, Kassandra. Hear me, crowned.




P (Holds Her So-Called False Maids Dear); Therefore, Q



& A: raped or blabbing,
these dismayed pet girls.
Can anyone, en-slaved, betray. Aren't we
in the same boats as Odysseus, unsure what counts
as faithful, & far too sure.
Honey, it's all
in the framing. Took some hard-core homering
to frame the footless working stiffs (strung up,
unhanded, de-pricked, hounds gobbling down the good parts)
& make a good part, make
us roar or sick,
depending on our chancy here-nows' mores.
One loopy hell of a story, really: cascades
of perceptions & prosodic units push us
toward revenge, that big
-talk beggar always
already there before us, tricksy, ready
to kill, to break her possible heart, picking,
in the illiterate Greek, the boss bow up.



AUTHOR BIO
Jeanne Larsen teaches in the Jackson Center for Creative Writing at Hollins University. She is the author of two books of poetry, Why We Make Gardens [& other Poems] (Mayapple Press), and James Cook in Search of Terra Incognita (AWP series winner; U. of Virginia Press), as well as two books of translations of poems by medieval Chinese women, an e-novel, Sally Paradiso, and three print novels, Silk Road, Bronze Mirror, and Manchu Palaces. Her backtalk footnotes to Homer's Odyssey are starting to appear in various journals, some printed on paper, some not.
POETRY CONTRIBUTORS

Michelle Blake

Erica Charis-Molling

Kay Cosgrove (Featured Poet)

Anna M. Evans

Nicole Caruso Garcia

Kelsey Ann Kerr

Jeanne Larsen

Susan McLean

Claudia Monpere

Diane Moomey

Stephanie Noble

Suzanne Noguere

Linda Parsons

Samantha Pious

Barbara Quick

Leslie Schultz

Sofia Starnes

Myrna Stone

Katherine Barrett Swett

Marly Youmans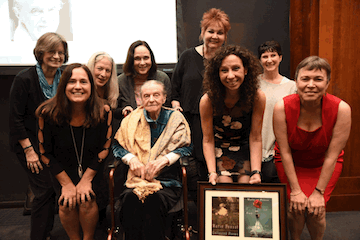 The most recent addition to The Mezzo Cammin Women Poets Timeline is Rosa Newmarch by Jean L. Kreiling.
Marie Ponsot was presented with a Lifetime Achievement Award at the Celebration of the Timeline reaching 75 essays, Lincoln Center, Fordham University (Sponsored by Fordham's Curran Center) Friday, October 20th, 2017.
Charlotte Innes is the recipient of the 2018 Mezzo Cammin Scholarship to the Poetry by the Sea conference.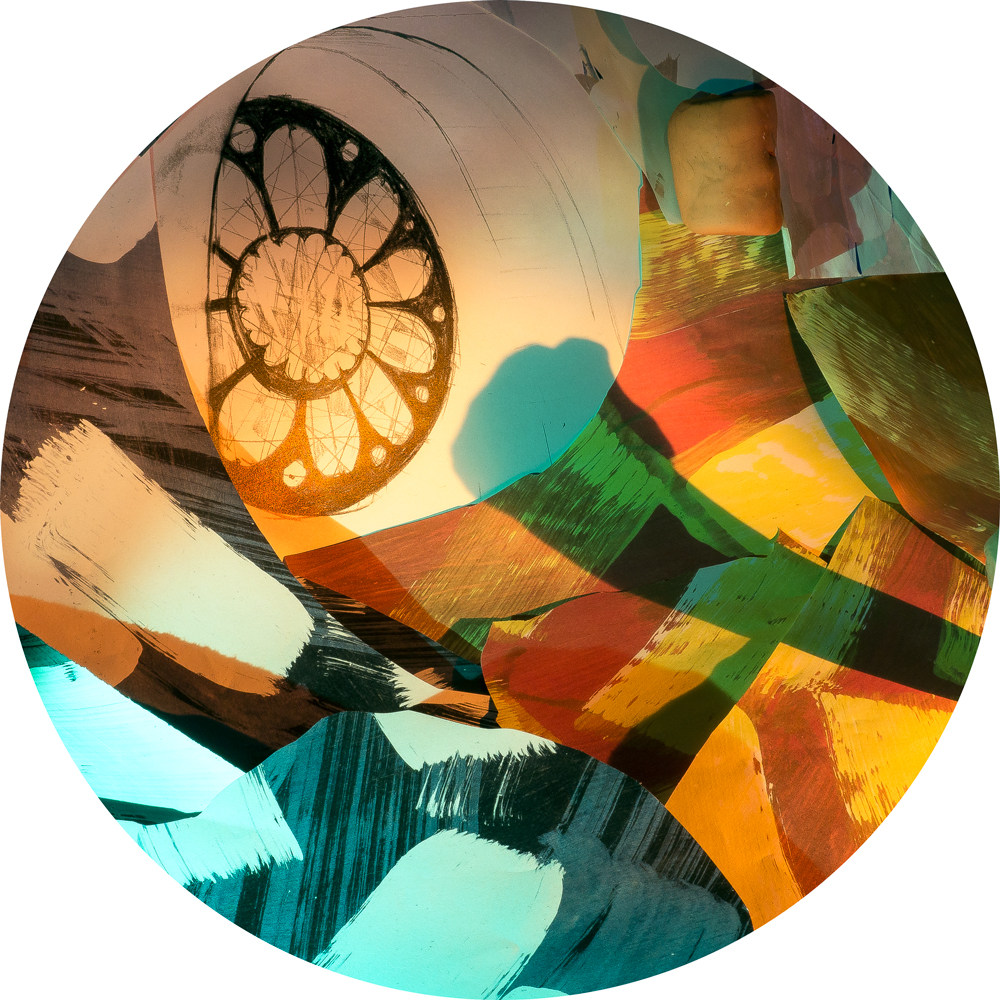 Rachael Gorchov: Recently I completed a body of work that focused on the landscapes that define suburban office and industrial complexes, contemplating their subtle relationships with the history of landscape painting. When looking at these places I saw English landscape gardens – orchestrated nature that gave way to picturesque landscape painting. I documented my subjects onsite by drawing their reflections in a Claude Glass, a convex black mirror popularized as an observation device in the 18th century. This tool appealed to me for how its skews and bulges its reflection, making my work highly subjective from the start. I then constructed paintings in the studio based on these drawings. The three-dimensional nature of my paintings further emphasized the forced perspective in my initial drawings and required viewers to explore the paintings much like they might explore a physical space by moving around, crouching and craning their necks.

Irregular versions of geometric forms such as cubes, parabolic curves, cones and triangles comprised the dimensional shapes of these pieces and eventually gave way to my working nearly exclusively on concave surfaces and 'rocks with cast shadows.' I settled on these structures for a few reasons. When a viewer stands directly in front of the concave works, irregular half-spheres with the convex side attached to the wall, the paintings fill their peripheral vision for an immersive experience. The rocks and shadows, amorphous objects paired with adhesive-backed prints, are reminiscent of portals and geologic abrasions. They invite viewers to question if the dimensional form is emerging from or entering into another space. Like in other works, these pieces frame the physical space the artworks inhabit.

In 2016, I visited Europe where I recognized parallels between the interiors of Renaissance spaces and my own paintings, such as the power that foreshortening possesses in its ability to collapse and intensify space in cathedrals– similar to my Claude Glass works. This experience coincided with a visit to an exhibition in Vienna featuring renderings of synagogues that once stood in the city. This piqued an interest in contemplating architectural space in my work and prompted me to consider architectural language in my own Jewish cultural heritage. I then began a series of tondos, a Renaissance term for circular artworks, of European Jewish architecture.

Beginning with paintings and mixed-media, in these works I build a photographic image that engages the space wherever it is installed, becoming part of the architecture. I arrived at the tondo format through my own history of making non-rectangular paintings, and appreciate its relationship to reliefs and rose windows found in synagogues and cathedrals. In gathering source imagery, I rely heavily on documentation – photographs and engravings as most of these buildings have been destroyed. I contemplate the collective memory images of architectural space can reveal. In this spirit, this work depicts layered environments where scale, color and depth shift ambiguously, revealing experiential space.

I consistently begin works by looking at a particular subject because of an art historical or personal association, and then through a process of extracting details from their surroundings using an accumulation of marks, color and a tactility, I sacrifice specificity of form and place, ultimately revealing a specificity of experience as my subject.