Jennifer Davis Michael






Back to School


Drive your cart and your plow over the bones of the dead. --William Blake

The brown grass crunches underfoot,
as arid as an ocean sponge
long emptied of its element.

Across the campus, dust and din
as giant hammers shatter rock,
carving out space to build anew.

It all should be familiar now:
the dying grass, the building works,
the counterpoint of death and birth.

This, after all, is what we do:
plow up old bones to plant new seeds,
feeding the future with the past.

But there's a different air this year.
Nature ignores our syllabus,
perversely spreading drought and flood

to mock our mastery of the globe,
while children who can't write their names
are handed guns and schooled in war.

Watching the half-moon's crisp, clear light,
we wonder if it's on the wane
or wax. We call it "back to school,"

and wonder at the paradox:
a turning back to climb ahead.
We've learned so little from the dead.







Mountain Laurel



They grow in sets, like china cups
arranged for a bridal registry:
open, expectant, delicate,
poised for the wind's dishevelment.

But not so formal, either: more
like glasses clustered sociably
after the party. A dark red ring
stains each, the dregs of wine and talk.

Fallen, they spill across the ground
like crumbs from some celestial feast,
stars scattered from an angel's hand,
light pouring from their sharp, soft points.


AUTHOR BIO
Jennifer Davis Michael holds a Ph.D. from Northwestern University and is Professor of English at the University of the South in Sewanee, Tennessee. Her teaching and scholarship focus on British Romanticism. She is the author of Blake and the City (Bucknell University Press, 2006).
POETRY CONTRIBUTORS

Debra Bruce

Kathryn Jacobs

April Lindner

Jennifer Davis Michael

Angela O'Donnell

Doris Watts

Marly Youmans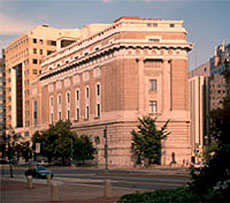 Mezzo Cammin
is proud to announce that The
Mezzo Cammin
Women Poets Timeline Project, which will eventually be the largest database of women poets in the world, was launched on Saturday, March 27, 2010, at 6:00 PM at the National Museum of Women in the Arts in Washington, D.C. (Photo by Tom Field)
Visit Timeline
.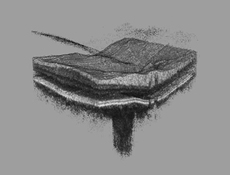 Jo Yarrington
: I've always been interested in liminal places, areas of the mind or reality that blur definition, that exist somewhere in between. When first reading
Swann's Way
, I instantly identified with Proust's ruminations on the space between sleeping and waking. Suspended in that glide from consciousness to unconsciousness, he seemed to find a threshold to unfettered freedom and clarity. In Brontë's
Villette
, when faced with the harsh realities and social restrictions of Victorian England, Lucy Snow could slip into her shadowland, an interior place of refuge and boundless possibilities. And, in
Atonement
, McEwan spoke to the fertile pause between stillness and motion when he wrote "the mystery was in the instant before it moved, the dividing moment between moving and nonmoving, when her intention took effect." It is these elusive, shifting planes, these fluctuations in our psychic core and physical being, these changeable and charged arenas that I explore in my visual art.