Debra Bruce






Ceremony



I found a way to bring the rug upstairs.
I roll it up, then tug its heavy body.
I'm rearranging the rooms we used to share.

To slide it across the floor would take me years,
so I stand it up and let it lean on me,
shuffling with it toward the basement stairs--

Oh heavy mate--and who will greet me there?
--to usher in the new reality
of rearranging the rooms we used to share.

You wore a jacket I'd never seen you wear,
moving your things out, keeping your back to me.
I lose my grip, starting up the stairs,

but I don't fall. The rug slides down and flares
apart, away from me, deep burgundy.
I'm rearranging the rooms we used to share.

I don't know why I can't just leave it where
we stashed it away--for good, apparently.
I found a way to drag it back upstairs.
I'm rearranging the rooms we used to share.







A Notable Confession


c. 1633

The infinite or finite mystery?
Your Holiness, I pray, please take your pick.
Let's play our bitter joke on history.
I, Galileo, am a heretic.
I rushed my spyglass up the golden stair,
my pride pumped up--to magnify x 10.
Seeing the tiny faithful cross the square,
far off, amazed the doge's silken men.

But then I watched the sky. I take it back.
My prison is a villa, gathered beans
promised by my daughter, white grapes just picked,
her letters pleading with me, come, soon, please.
Do I, an old man, renounce Copernicus?
Of course I do. Don't be ridiculous.

(originally written as part of a collaborative sonnet sequence, first line by Mary Agner)


AUTHOR BIO
Debra Bruce's third book, What Wind Will Do, was published by Miami University Press of Ohio, and she's had work in The Atlantic, The Formalist, Poetry, Ploughshares, The Virginia Quarterly Review, Prairie Schooner, and other journals. She has been the recipient of grants and awards from the National Endowment for the Arts, National Endowment for the Humanities, The Illinois Arts Council, The Poetry Society of America, and Poetry. She is a professor of English at Northeastern Illinois University in Chicago. Visit Debra Bruce's website. Other earlier work in Mezzo Cammin: 2007.1, 2006.1.
POETRY CONTRIBUTORS

Debra Bruce

Kathryn Jacobs

April Lindner

Jennifer Davis Michael

Angela O'Donnell

Doris Watts

Marly Youmans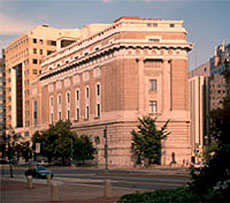 Mezzo Cammin
is proud to announce that The
Mezzo Cammin
Women Poets Timeline Project, which will eventually be the largest database of women poets in the world, was launched on Saturday, March 27, 2010, at 6:00 PM at the National Museum of Women in the Arts in Washington, D.C. (Photo by Tom Field)
Visit Timeline
.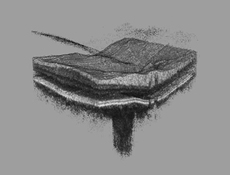 Jo Yarrington
: I've always been interested in liminal places, areas of the mind or reality that blur definition, that exist somewhere in between. When first reading
Swann's Way
, I instantly identified with Proust's ruminations on the space between sleeping and waking. Suspended in that glide from consciousness to unconsciousness, he seemed to find a threshold to unfettered freedom and clarity. In Brontë's
Villette
, when faced with the harsh realities and social restrictions of Victorian England, Lucy Snow could slip into her shadowland, an interior place of refuge and boundless possibilities. And, in
Atonement
, McEwan spoke to the fertile pause between stillness and motion when he wrote "the mystery was in the instant before it moved, the dividing moment between moving and nonmoving, when her intention took effect." It is these elusive, shifting planes, these fluctuations in our psychic core and physical being, these changeable and charged arenas that I explore in my visual art.