Leslie Schultz






A Song for Sarah Winchester



Overlooked by this dark green monkey puzzle,
here stands the living carcass of your house,
your own domain yet redolent of spirit,
ringing with ghostly hammers, all unfinished,
grounded by your brain's fantastic webs:
your testament to life supplanting death.

They say marasmus caused your infant's death.
A wealthy but starving daughter was a puzzle
designed to wreck your mother's heart, cast webs
of shadow into every corner of your house,
when, thirty-nine days old, less unfinished
than unbegun, Annie slipped back to spirit,

leaving a wake of grief. Your own spirit,
like a fragile, dimming lamp, beckoned death
although your life, your marriage, were unfinished.
For fifteen years, you tried to solve the puzzle
of how to carry on in that Yankee house,
daily reweaving strands of social webs

connecting you, through cold manufactured webs—
commerce, war, the zeal of industrial spirit—
sustaining but polluting your indolent house.
And then, you had to weather William's death.
Seances offered pieces of the puzzle,
seemed to show a path, although unfinished,

out of guilt. You moved west, to unfinished
but fruiting land. Here, sunshine and damp webs
of California fog helped you puzzle
out how to build up your demolished spirit.
A rotting farmstead on the brink of death
became seed for your new mysterious house.

For almost thirty-nine years, your new house,
daily re-designed, remained unfinished.
Carpenters toiled day and night until your death.
What had you created? Enduring webs
of hope. You wove your questing spirit
into this costly wooden-iron-glass puzzle.
 
Yet no real puzzle. Your daisy-studded house
still welcomes new spirits, all of us unfinished,
all caught by dew-bright webs that soften death.








Goddess of Forgetting



There is a goddess of Memory, Mnemosyne, but none of Forgetting. Yet there should be, as they are twin sisters, twin powers, and walk on either side of us, disputing for sovereignty over us and who we are, all the way until death.

Richard Holmes, "A Meander Through Memory and Forgetting"
(Epigraph to In the Garden of Evening Mists by Tan Twan Eng)

I have imagined heaven as the place
where all is finally known, a garden
where every longed-for loved or famous face
is seen, if desired; if need be, pardon

is granted, and our gnat-clouds of questions
Who wrote Shakespeare's plays? Where is my lost ring?
are dispersed as we—aha!——make connections
from Memory's sacred spring, ever-flowing.

Yet, what if heaven is, rather, letting
go of the need to know and all that woe
of regret, the done and said and unsaid?
Let us build an altar to Forgetting,
beseech Her blue ocean's undertow
to carry off all driftwoods of the head.



AUTHOR BIO
Leslie Schultz (Northfield, Minnesota) has three collections of poetry: Still Life with Poppies: Elegies; Cloud Song; and Concertina (Kelsay Books). Her poetry has appeared widely, including in Able Muse, Blue Unicorn, North Dakota Quarterly, Poet Lore, Third Wednesday, MockingHeart Review, The Midwest Quarterly, Naugatuck River Review, and The Orchards. She serves as a judge for the Maria W. Faust Sonnet Contest.
POETRY CONTRIBUTORS

Kris Beaver

Catherine Chandler

Mary Cresswell

Catherine Fitzpatrick

Nicole Caruso Garcia

Katie Hartsock

Jean L. Kreiling

Diane Lee Moomey

T. R. Poulson

Catherine Esposito Prescott

Carolyn Raphael

Claudia Schatz

Leslie Schultz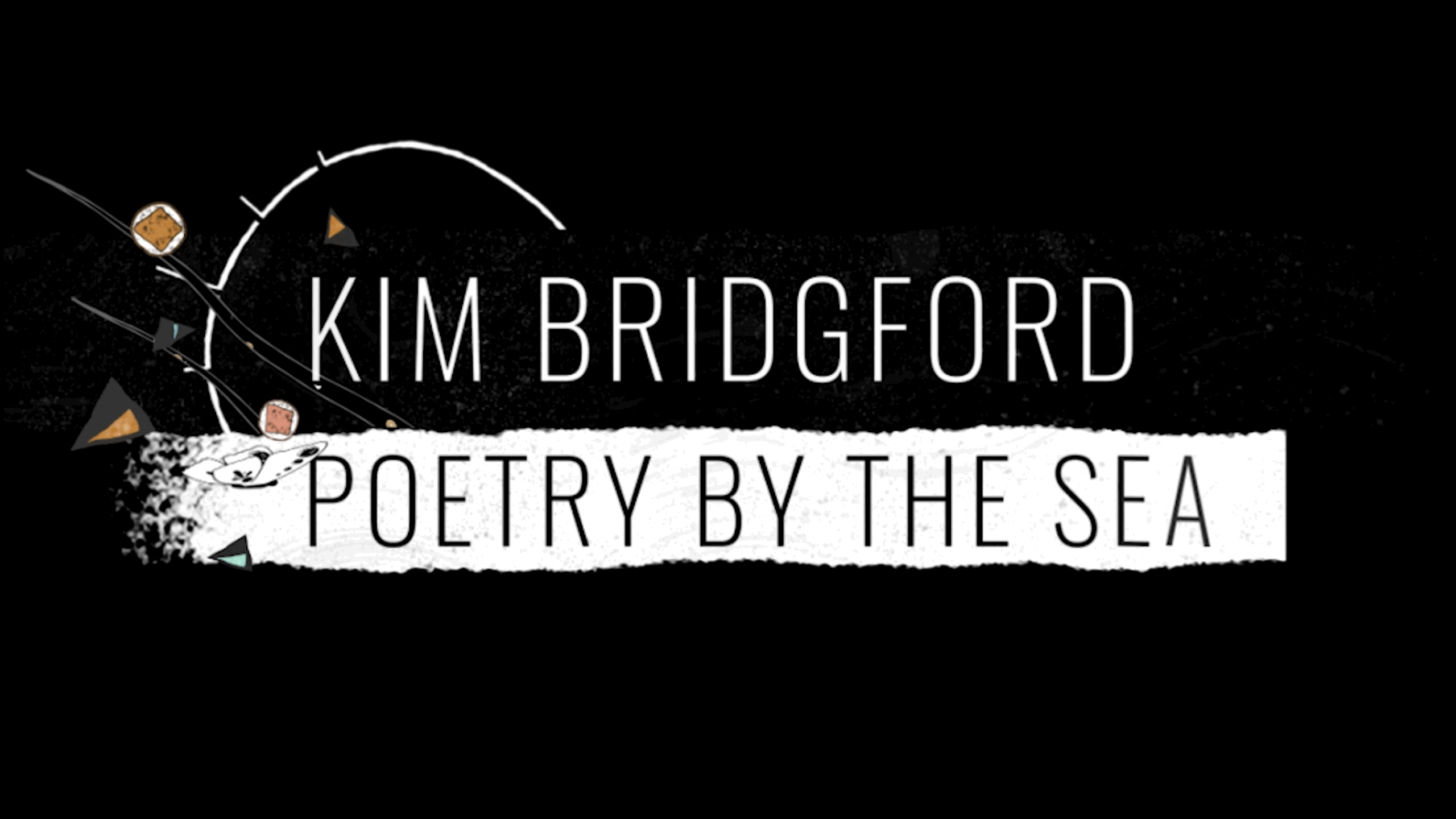 The Poetry by the Sea Spring Celebration is available for viewing on Youtube as a permanent memorial and tribute to Mezzo Cammin's founder, Dr. Kim Bridgford (1959-2020). Click here to watch.
The 2022 Poetry by the Sea conference will run May 24-27 2022.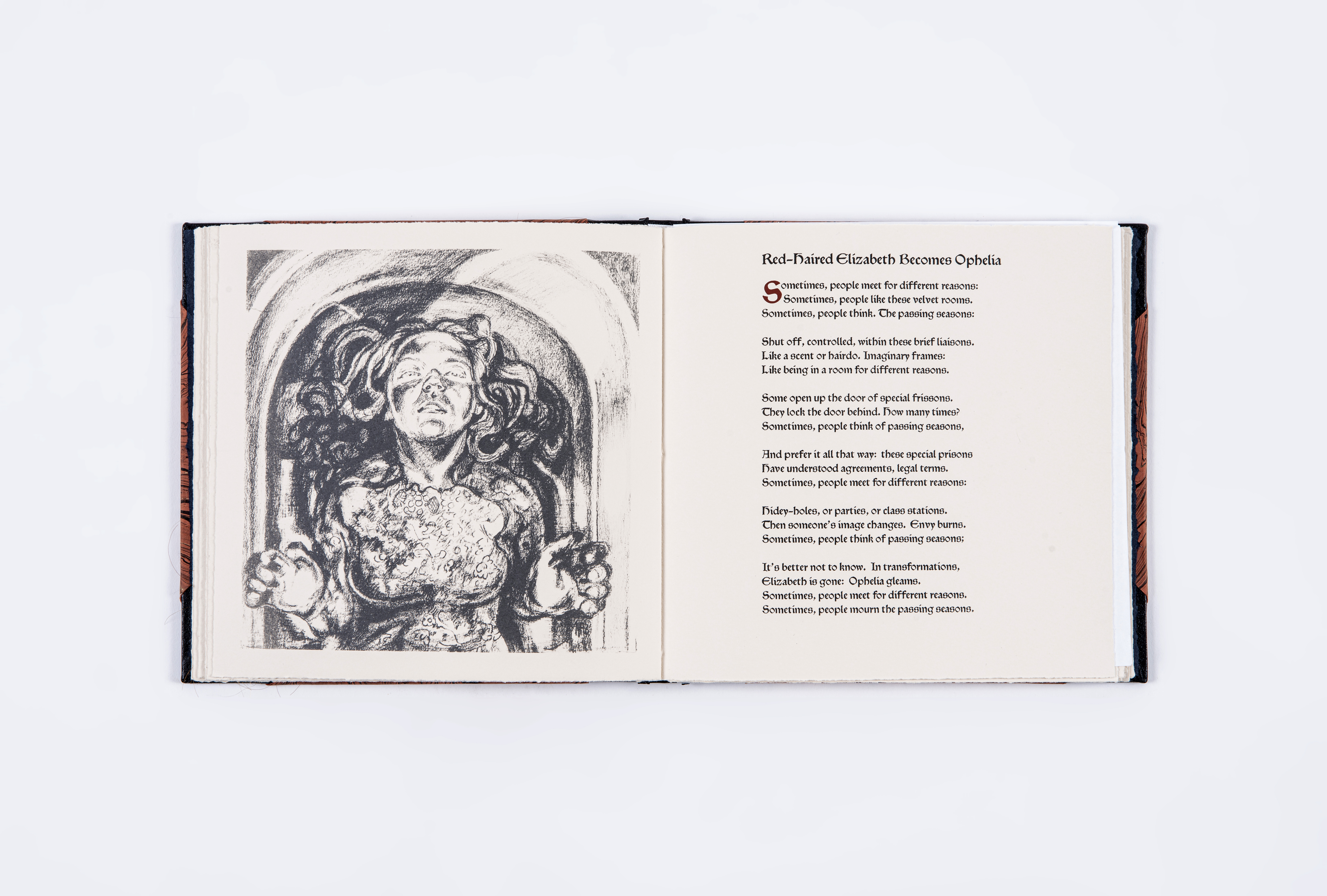 My work contributes to the dialogue among feminist writers, historians, critics, and artists to define a space for creative work and agency for women. Through my figurative paintings, I challenge notions about the female body, redefine myths, and recover the lives of historical women. I draw upon my knowledge of art history, symbolism, and iconography to create rich stories about the women I paint. By projecting my own likeness into many of the portraits I create or by using models, I identify with the women I paint and explore my own sense of being an artist and woman in relation to accomplished women across centuries and cultures.

Here we see the pages from my newest artist book, I Wake Again, based on the life of Pre-Raphaelite artist and poet, Elizabeth Siddal. The poems are written by Kim Bridgford, who was a dear friend for 30 plus years. The pages are printed in lithography and the initial letter of each poem is done in silkscreen. The font of the poems is Morris Font. The ink color is graphite. I have reimagined key moments in Elizabeth's life, such as her birth, her writing poetry, reading, painting, and her death. Each book contains red hair and has been bound by Maureen Cummins.