Mary Mercier






The Mayflower Truck



Not everyone is given ninety-four years.
And fiercely she lived them, like a bird
that finding it can fly so freely shears
the blue bolt of the sky. She was the word
for sky. And generous as the clouds that bloom
into thunderheads—an unexpected form
that nonetheless brings rain, brings green to June.
And that's what we remember. Not the storm
but the quenched thirst, the bright room, the shower.

It's spring and a plow cuts through reluctant loam.
Next to the field is a vagrant Mayflower
that somehow reminds me of her, coming back home—
a ship aground without a care for ransom,
its timbers returning the light they started from.




Sestina for the Solstice



Hush of a northern lake at morning—
stillness not even a bird will break.
Summer's slant of light hints at the heat
that later will infuse the rafters of noon
but now the air is perfect, balmy, still
completely present to the light.

And this lake is nothing if not layered light—
its flat-iron face an anvil for the morning,
reminding me that everything perfect and still
is not. The lost will still be looking for a break
in the clouds; the sky will not be blue enough 'til noon
becomes the focal point for this day's heat.

Even here in dawn's box seat I can imagine heat
coming toward me like a mainsail filled with sunlight.
But that is still an entire afternoon
away. (Why do we do that—overlook the morning
just to satisfy the hurried, coffee break
mentality of the mind?) Still,

this lake suggests that the essential grace is still-
ness rather than song, and that even heat
can be a virtue if we can but sit and break
the day like bread. Hammered by sun's light,
leaves ignite during the opening bars of morning,
then put on their shady coats of green for noon.

We think summer is the middle just like noon.
But autumn is the real center, a brewing still
of all that's yet to be, like the promise of morning
before the day is born, before the adolescent heat,
before even dreams precipitate in moonlight.
Autumn, recumbent sunlight, hurries forth to break

the news: the soul is durable, it will not break
in two (like shattered hearts). And the boring afternoon
will always yield to time—cognizant of light
and willing to consider what is balmy still.
The day is but container to our being, entertaining heat
but returning to the still point of another morning.

Someday winter's break will corrugate the leaves of fall, but still
the lake will be as silent as noon—sans heat
sans light—holding in its frost-clad arms the unrepentant morning.





Red Gym



For years it is a castle I recall,
its windows sifting light, its varnished floors
remarking upon each step. I look for doors
to higher ground. I will be found if at all
in the turret. But first I rediscover gravity,
fathoms deep and yawning in the trap door
between gymnasia. I am not sure
I can resist such dark enormity.
Today its mouth is closed is latched but still
I gamely hug the walls, I look for detours
until I find the windows which turn on their centers
like planets. Their age is measured on each sill
in geologic layers. Only they know the stair
where cream city brick turns into sky and air.






AUTHOR BIO
Mary Mercier lives in a small town in the Driftless area of Wisconsin, a place that inspires much of her work. She holds an M.S. in Land Resources from the University of Wisconsin-Madison, where she served as an environmental studies advisor for twenty years before moving to the country. Her chapbook Small Acts was published by Parallel Press, and her poems have appeared in Spillway, Connotations, Stoneboat, Blueline, Common Ground Review, and other journals. She has collaborated with artists such as Martha Glowacki and her installation "Starry Transit" staged at the Washburn Observatory at the University of Wisconsin.
POETRY CONTRIBUTORS

Barbara Crooker

Alexandra Donovan

Jehanne Dubrow

Kathleen Goldbach

Colleen S. Harris

Brittany Hill

Katherine Hoerth

Lynne Knight

Jean L. Kreiling

Angie Macri

Carolyn Martin

Kathleen McClung (Featured Poet)

Mary Mercier

Ann Michael

Leslie Schultz

Myrna Stone

Jean Syed

Ann Christine Tabaka

Sally Thomas

Doris Watts

Joyce Wilson

Marly Youmans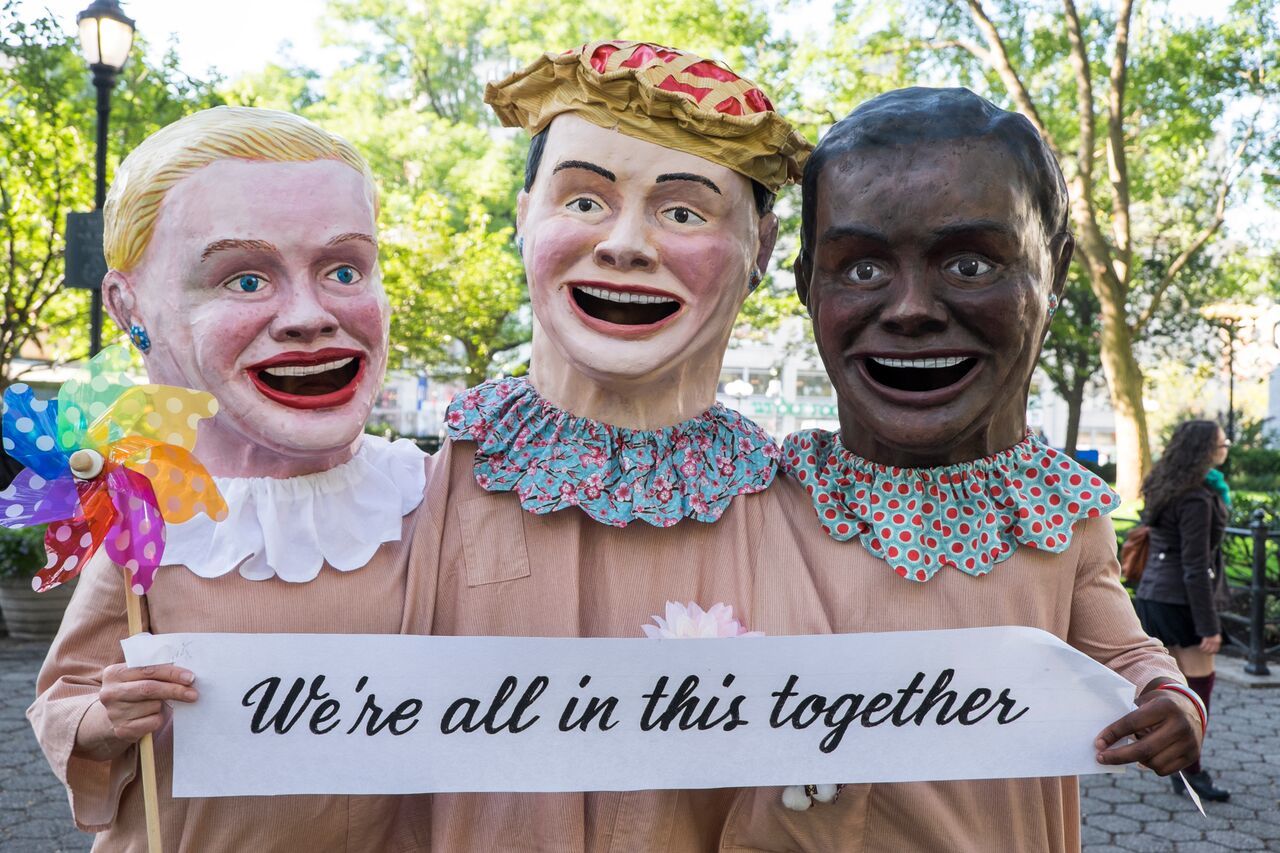 Megan Marlatt:Looking like large puppet heads, it was "anima", the root of "animation", that led me to the making of the big heads, (or "capgrossos" as they are called in Catalonia where I learned the craft.) Anima is the soul or what breathes life into a being and to animate an inanimate object, an artist must insert a little soul into it. However to bring attention to what is invisible, (the soul), I chose to mold its opposite in solid form: the persona, the ego, the big head, the mask. Nearly every culture across the globe has masks. They allow performers to climb into the skin of another being and witness the other's world from behind their eyes. While doing so, the mask erases all clues of the performer's age, gender, species or race. In this regard, I find them to be the most transformative and empathic of all human artifacts.