Colleen S. Harris






Hole in the Wall



A rose drawn in negative
space. The bogeyman's
door. An interior window

that showed me how thin
and fragile the walls of a
house are. A confessional.

A gateway to studs
standing tall and stiff like
uncarved soldiers, polite

pillars holding the roof
up despite the damage. A
gift of mangled sheetrock,

clear proof that he would
never harm me, that he
loved me even though I

didn't listen, that he would
rather hit the foundation
of his own home than me.



Two Apples Too Heavy



My tears come too free
to be holy, my hem too frayed

to carry leaden cures.
You lavish your love

at the feet of stone saints,
pleading your case

on rosary knees
in a wooden house

that smells of wine
and shame. I will not

stay as a favor to a God
I barely believe in

while you drown in guilt,
half a sin shy of hell

and two apples too heavy
for heaven.



Bud Vase



There was nothing special about the vase
except that I wanted it. Except that he bought it

for me, my father with rough hands given more to a chuck
under the chin than gifts of delicate porcelain.

The vase was dusty, three violets hand-painted
at the base, pigments rough against the glossy surface,

fluted neck framing a single synthetic rose. It stood
behind glass, an odd exhibit in a video store.

In a rare good mood, money left over for movies
after food and beer, he watched me want it.

Even then, I knew the best way not to get what you want
is to ask—we were weaned from want. Still, my nose

left a print on the pane before my eyes, a dark echo
of his hazel, rose to his. You'll need a real rose, he said.

But the velvet rose rising from that scalloped throat
held its vague perfume for years.




AUTHOR BIO
Colleen S. Harris serves as a librarian on the faculty at California State University Channel Islands, where she also teaches in the Freedom and Justice Studies minor. She is the author of God in My Throat: The Lilith Poems (Bellowing Ark 2009), These Terrible Sacraments (Bellowing Ark, 2010), and The Kentucky Vein (Punkin House, 2011), as well as the chapbooks That Reckless Sound and Some Assembly Required out of Porkbelly Press (2014). She is a three-time Pushcart Prize nominee for her poetry and fiction, holds the MFA in Writing from Spalding University, and is the co-editor of Women and Poetry: Writing, Revising, Publishing and Teaching and co-editor of Women Versed in Myth: Essays on Modern Poets. In her free time Colleen pursues graduate degrees and is ordered around by her basset hound Igor.
POETRY CONTRIBUTORS

Barbara Crooker

Alexandra Donovan

Jehanne Dubrow

Kathleen Goldbach

Colleen S. Harris

Brittany Hill

Katherine Hoerth

Lynne Knight

Jean L. Kreiling

Angie Macri

Carolyn Martin

Kathleen McClung (Featured Poet)

Mary Mercier

Ann Michael

Leslie Schultz

Myrna Stone

Jean Syed

Ann Christine Tabaka

Sally Thomas

Doris Watts

Joyce Wilson

Marly Youmans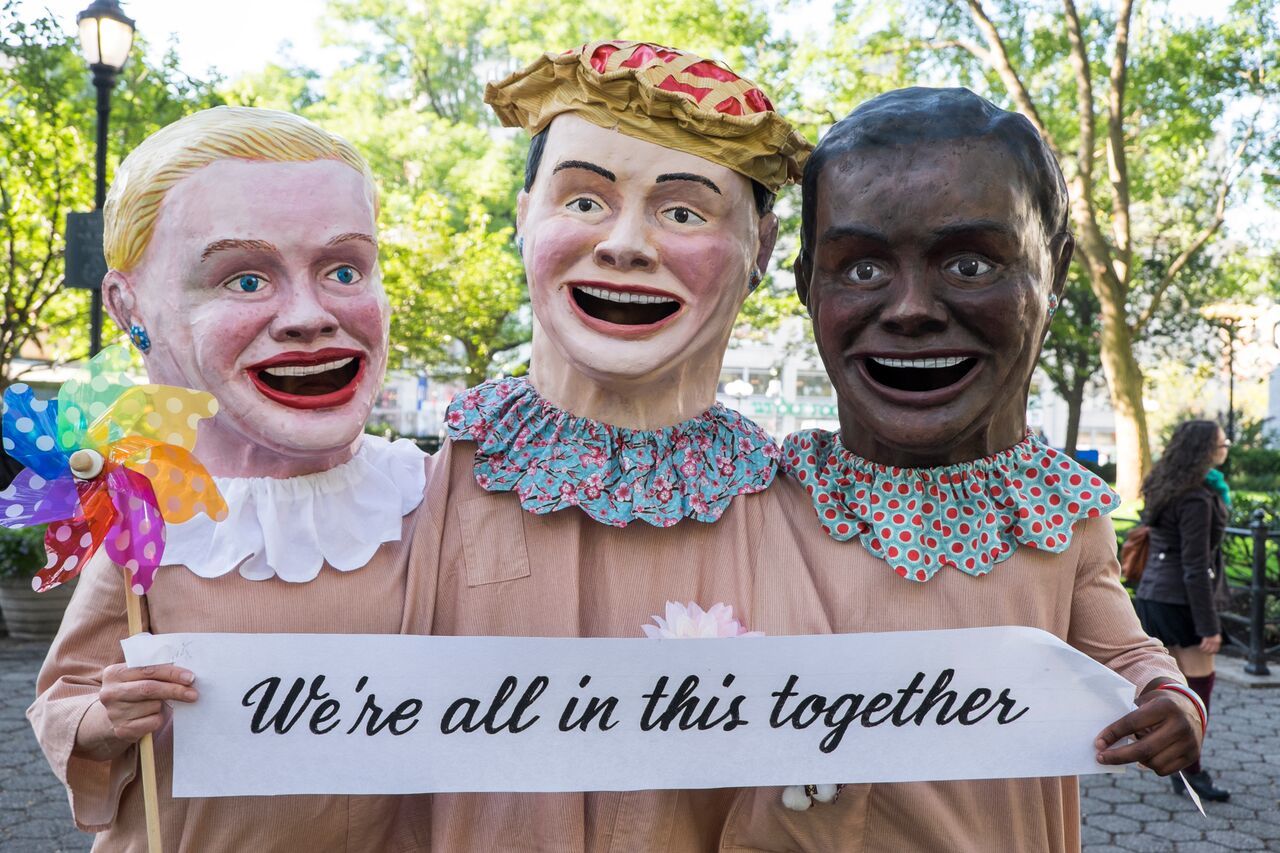 Megan Marlatt:Looking like large puppet heads, it was "anima", the root of "animation", that led me to the making of the big heads, (or "capgrossos" as they are called in Catalonia where I learned the craft.) Anima is the soul or what breathes life into a being and to animate an inanimate object, an artist must insert a little soul into it. However to bring attention to what is invisible, (the soul), I chose to mold its opposite in solid form: the persona, the ego, the big head, the mask. Nearly every culture across the globe has masks. They allow performers to climb into the skin of another being and witness the other's world from behind their eyes. While doing so, the mask erases all clues of the performer's age, gender, species or race. In this regard, I find them to be the most transformative and empathic of all human artifacts.