Gina Occhiogrosso

I am a painter whose work is composed not only through the application of wet color on a surface, but through processes of disassembly and realignment, and the incorporation of common, everyday materials like thread and yarn. These activities and elements allow me to explore anxiety, loss, humor and heroic femininity. The hallowed and often masculinized tradition of painting is subverted in my work through a repeated process of cutting and then sewing painted surfaces together to develop new forms, dynamic connections and illusions of depth. Where these freshly stitched edges join, there is a seam, which has both linear and sculptural qualities. The seam acts as a geometric disrupter of curvy ellipses and other organic forms that are carefully rendered and then carved up with alternating precision and chance. The ghost of those cut edges has its own subtle presence. I am interested in developing a surface that's full of the suggestive qualities that abstraction can create. The stitched paintings supply this through the deliberate recalibration of shapes and their relationships to one another.
In this collection of works, I start with a large piece of white cotton muslin fabric to create these paintings, first using a wet into wet technique that soaks the fibers, creating diffused shapes. After the fabric dries, I cut through the fabric in two, and by flipping or moving and then machine-sewing into other areas of the same fabric, the atmospheric shapes become dislocated. Sometimes the process reveals the hidden seam from the back, moving it now to the front. This process continues, over and over. The process is repeated until there is a balance in the work, while also maintaining some evidence of seams. I then tightly stretch the fabric. Color radiates through the pictorial space, suggestive of pattern though never achieving the regularity of pattern. In addition, the fabric is semi-translucent and when stretched, reveals the extra fabric of the seam from the back, creating an architectural white line that moves throughout the surface as well as the pictorial space. Embroidery or cutting shapes through the fabric are also strategies to create new relationships in the work.
Another Future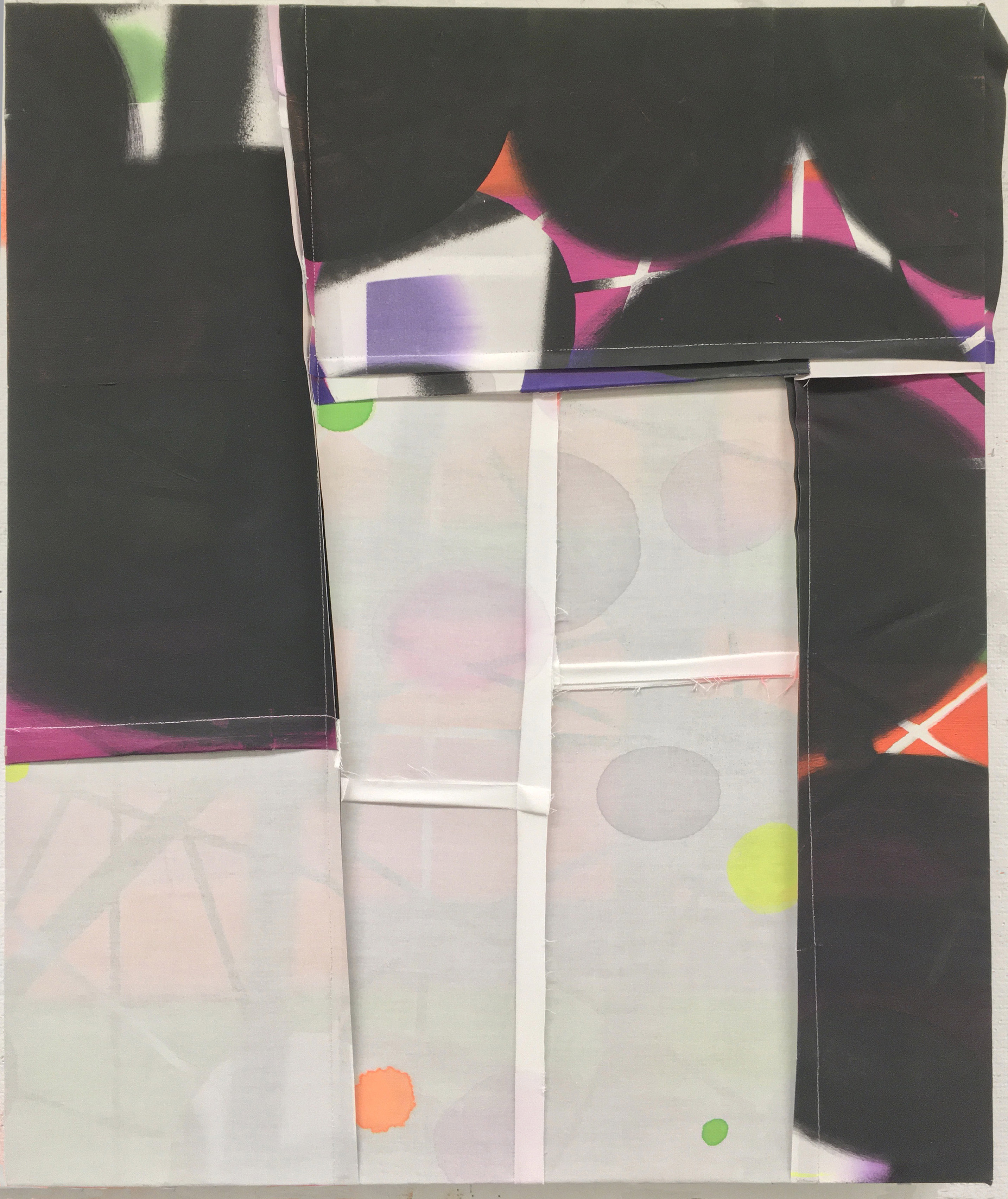 Oil and acrylic ink on pieced and sewn muslin
24" x 20"
2021

Back and Forth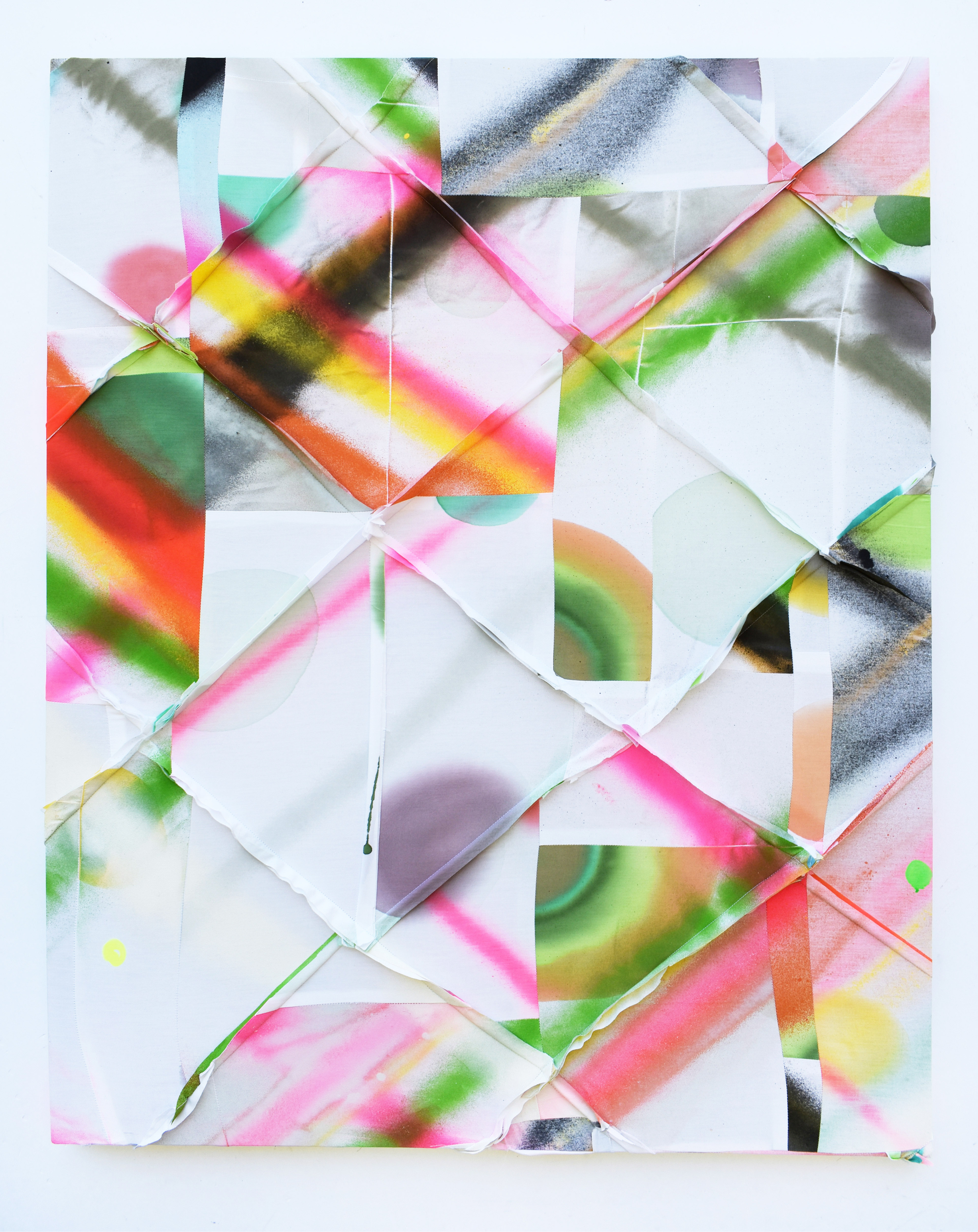 Acrylic ink and spray paint on pieced and sewn muslin
34.75" x 28"
2020

Breathless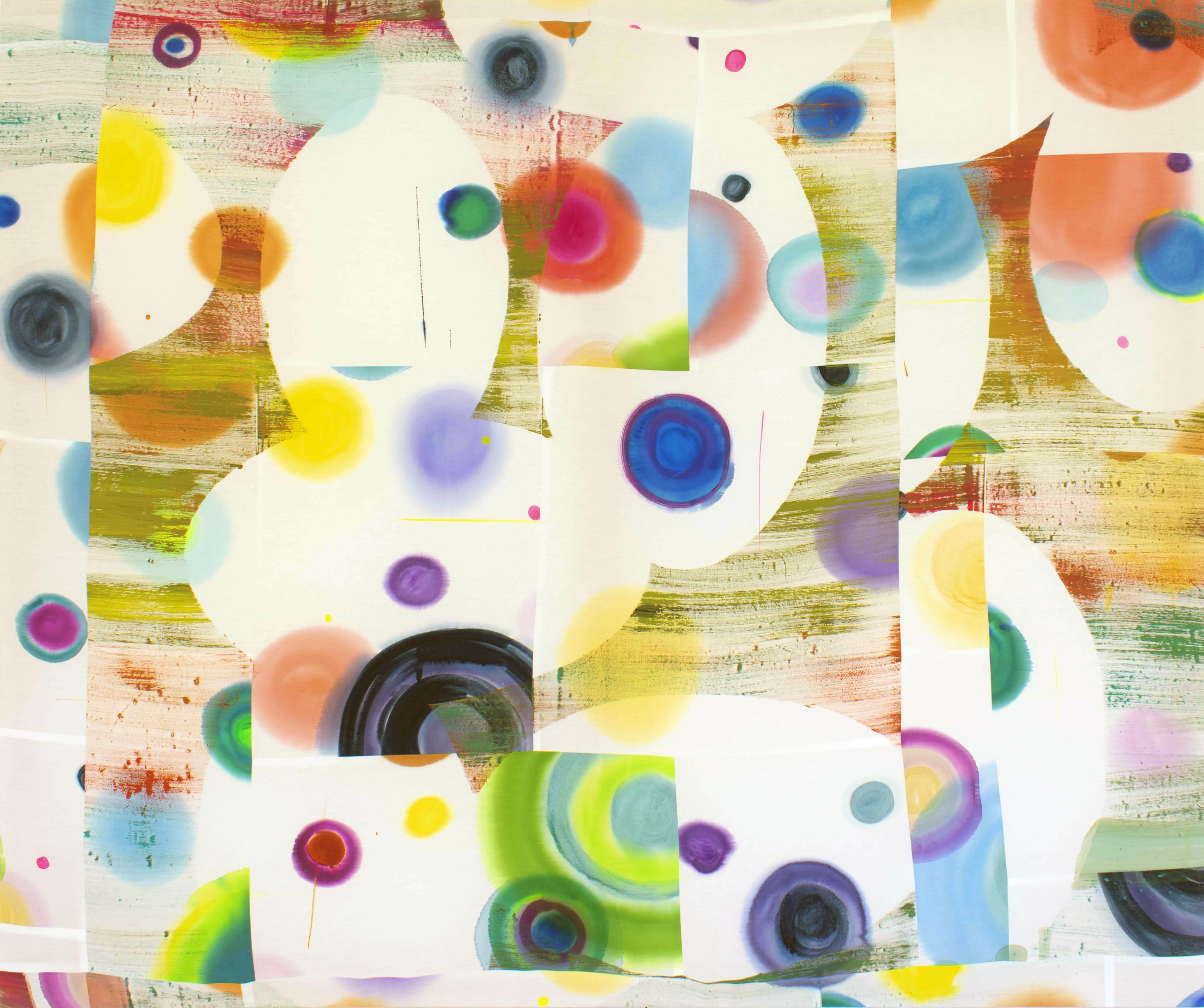 Acrylic on pieced and sewn fabric
60" x 72"
2021

Now You're Talking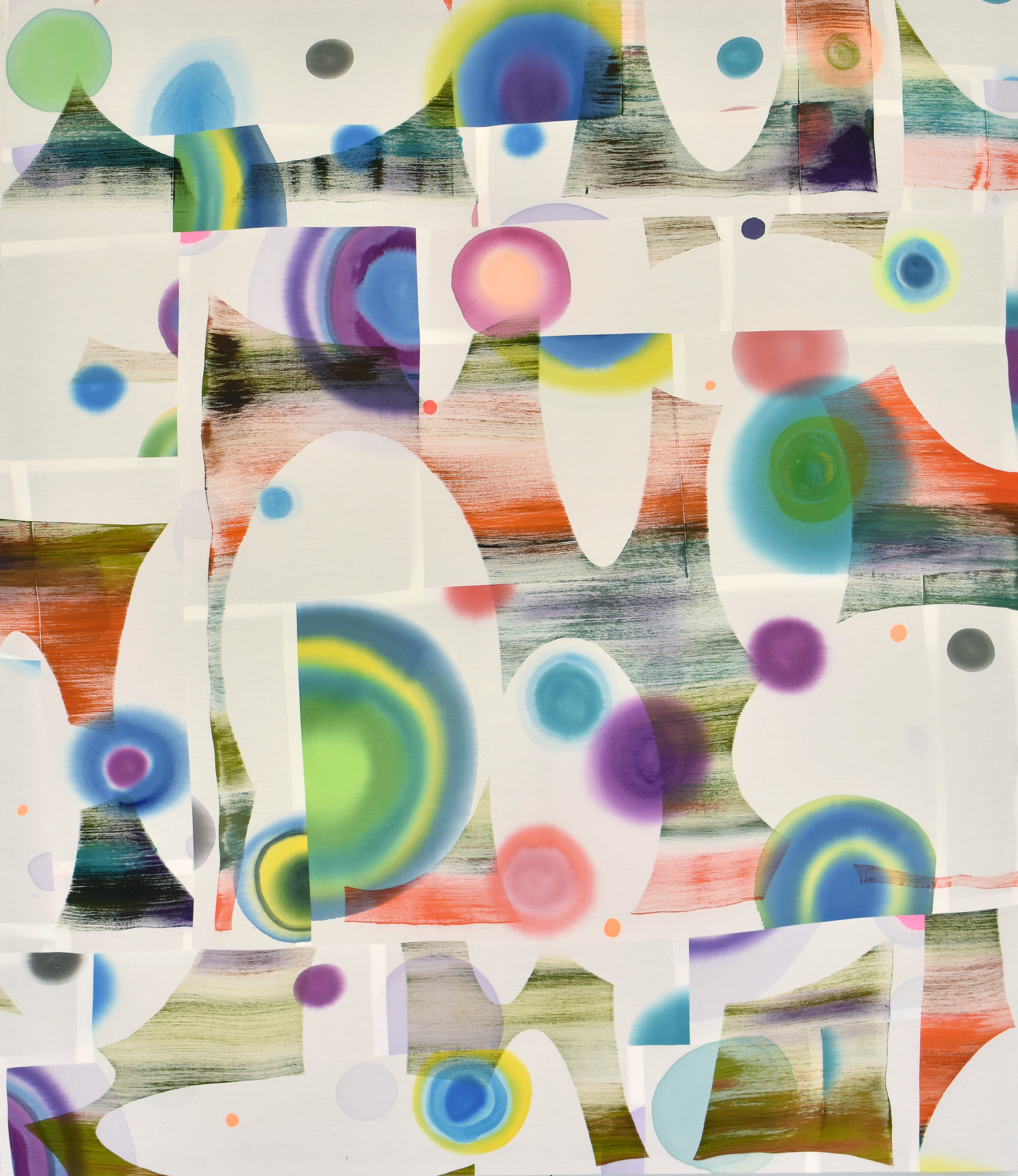 Acrylic ink and textile paint on pieced and sewn muslin
55" x 58" x 1.5""
2020

Stammer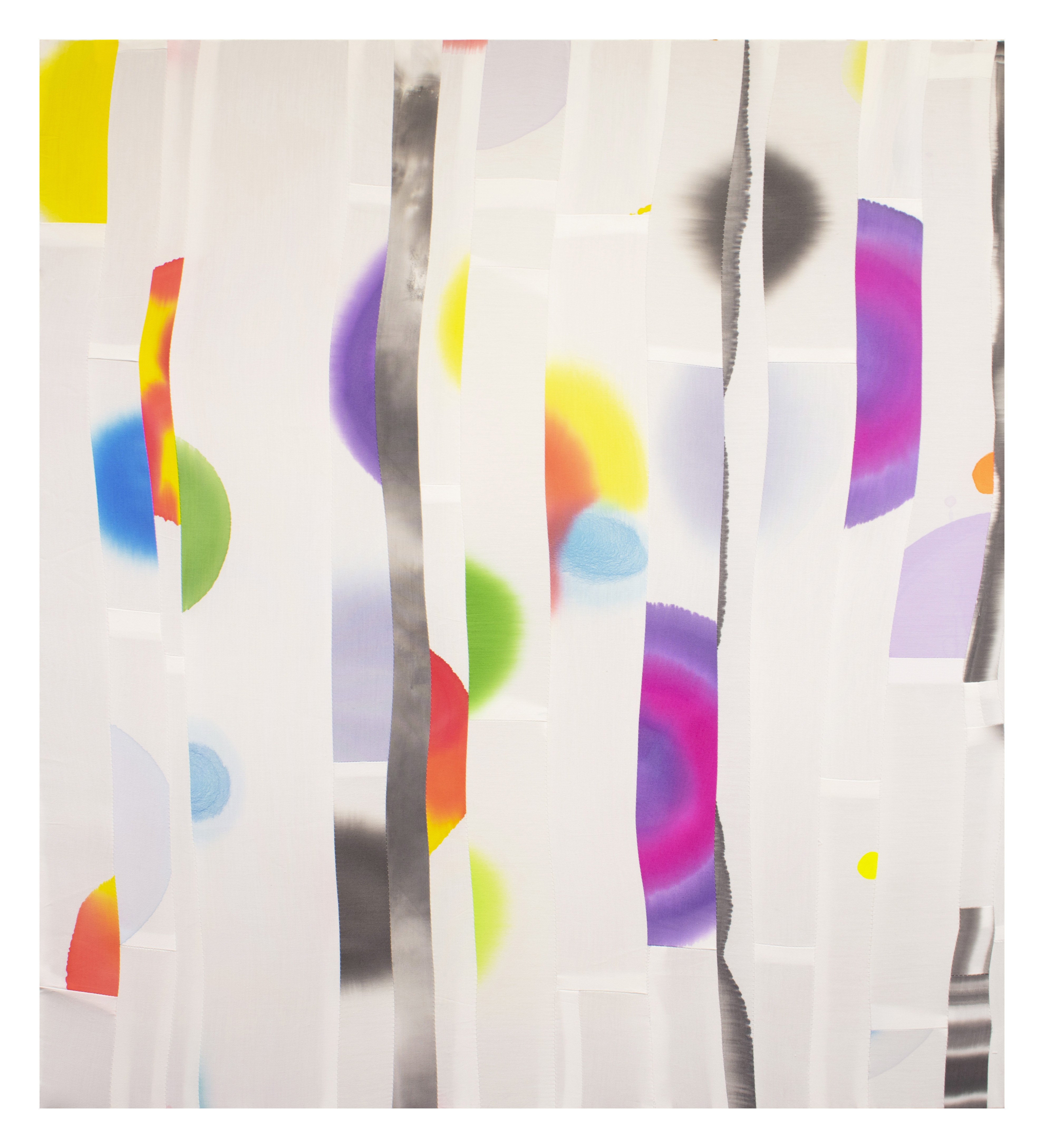 Acrylic ink on pieced and sewn muslin
29" x 26"
2021

Untitled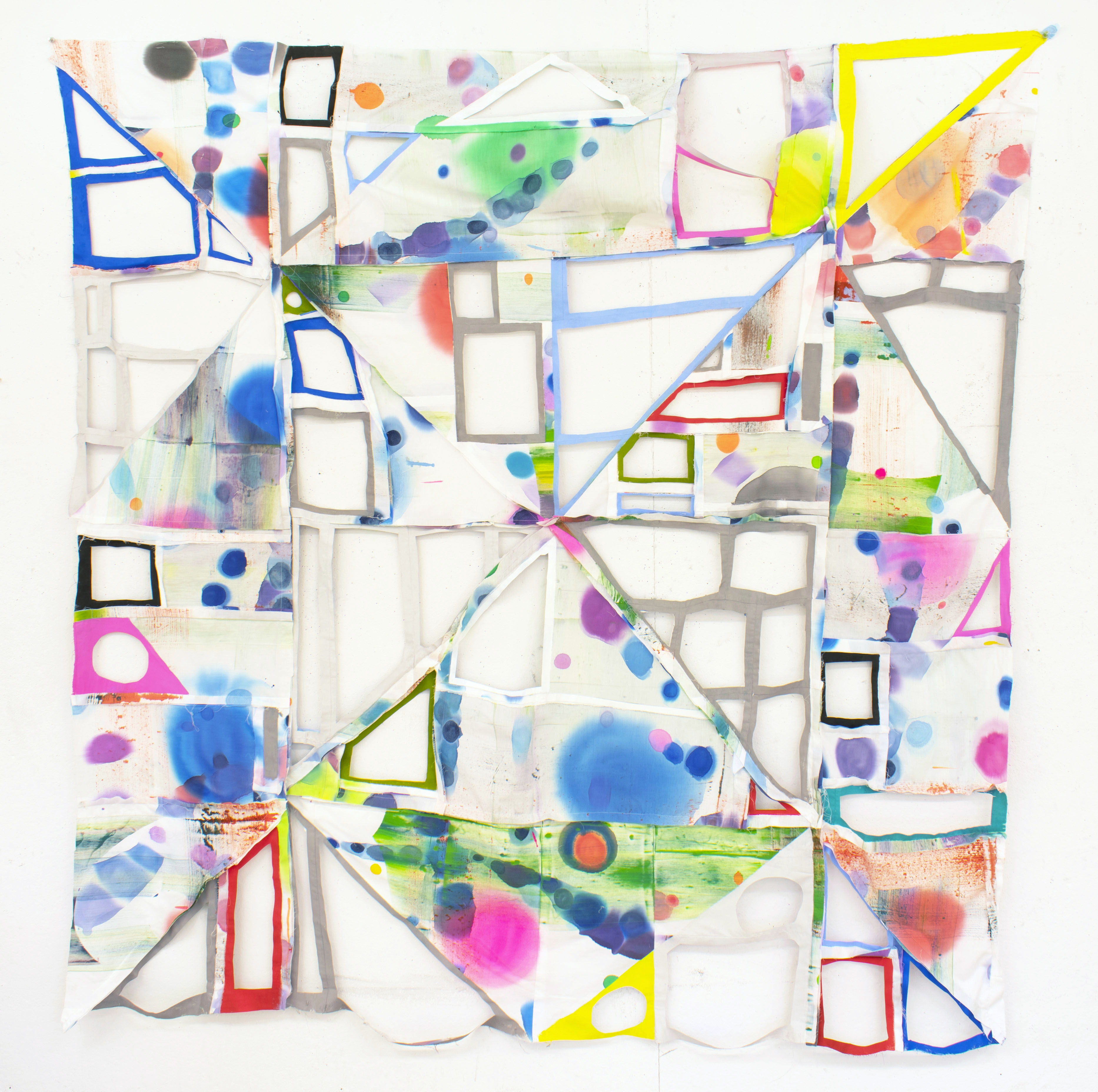 Acrylic ink, Flashe, and textile paint on pieced and sewn muslin
67" x 67"
2021

Untitled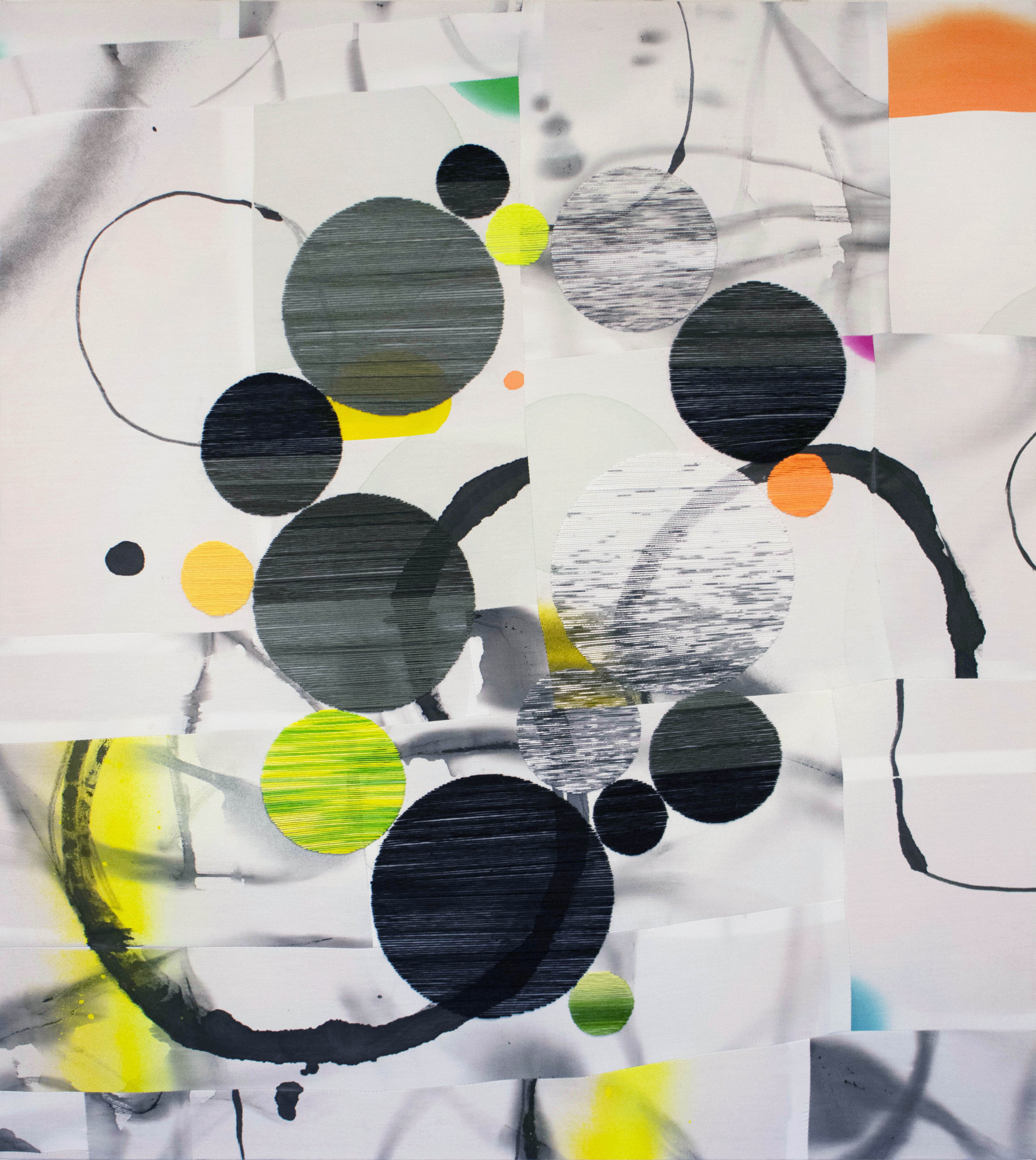 Acrylic ink and embroidery floss on pieced and sewn muslin
34" x 30"
2021

Verso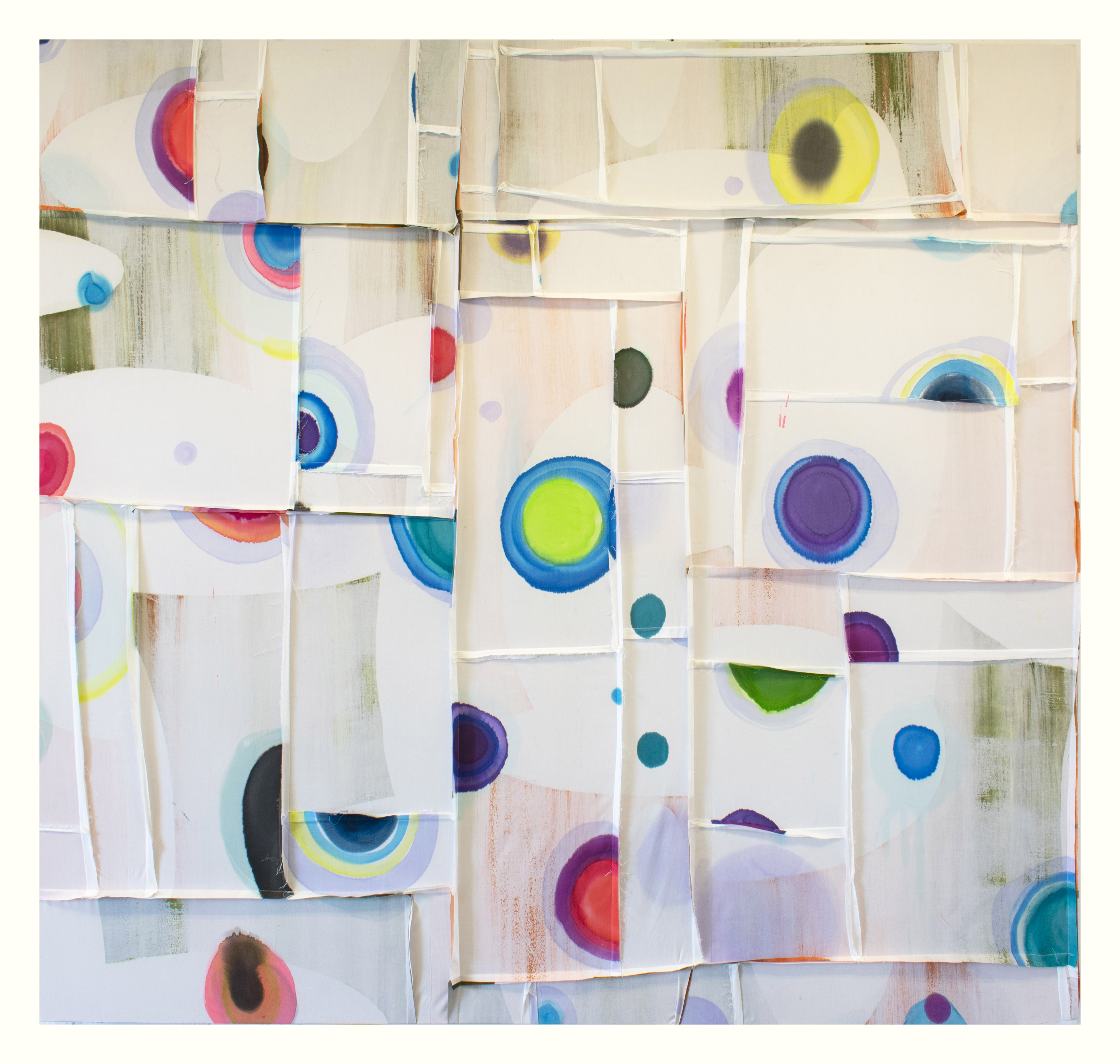 Oil and acrylic on pieced and sewn muslin
50" x 55"
2019



ARTIST BIO
Gina Occhiogrosso's national group exhibition experience includes group exhibitions at The Painting Center, Curator Gallery, Kathryn Markel Fine Art, and The High Line, in New York City, Pierogi Gallery in Brooklyn, Miami International Airport Gallery (MIA) in Miami, Florida, The Castle Gallery at the College of New Rochelle, New Rochelle, NY, Lehman College Art Gallery, Bronx, NY, Providence College in Providence, RI, Zinc Contemporary in Seattle, WA, and The Tang Teaching Museum, in Saratoga Springs, NY. In 2019, her work was featured at The Seattle Art Fair c/o ZINC contemporary. She has had several one-person shows at such places as ZINC contemporary, Seattle WA, Wilson Gallery at LeMoyne College, Nicole Fiacco Gallery, Hudson, NY, Roos Arts, Rosendale, NY, Saratoga Arts Council Art Gallery, Saratoga Springs, NY, Amrose Sable Gallery, Albany, NY, Lake George Project for the Arts, and Yates Gallery at Siena College. Her work may also be viewed in the Pierogi Flat Files, in NYC. Gina has been in residence at the Elizabeth Murray Artist Residency, MacDowell, Constance Saltonstall Foundation, the Ragdale Foundation, The Vermont Studio Center, the Virginia Center for Creative Arts, Inc (VCCA), and The Millay Colony for the Arts. She was also a Visiting Artist at The American Academy of Rome in Italy in 2014. Her work has been mentioned in the Brooklyn Rail and The New York Times. Gina is represented by Zinc Contemporary in Seattle WA, and Appleton Art Design, Westchester, NY and Westport, CT. Gina's work can be viewed online at www.gocchiogrosso.com and on Instagram and Facebook.