Maryann Corbett





Dents-de-Lion



The riding mowers, rumbling their menace—

rude, unruly— rattle me awake

with death-din for the dandelions.

They hurtle down roadsides to hack headless

each small starburst studding the lawn

with innocence.

Evil, it bites back always,

gnashing, scalding: the nun who scolded

my childish fistfuls. Fah! Weeds!

Too mean, she brayed for the Blessed Mother's

May-crown.

Let me unlearn all meanness,

Lord. In wonder, may I lean at the window

and vow: O suns of minor justice,

keep burning, brilliant in our back gardens,

our streets. Still gaudy, still grinning at heaven,

bless now with nectar great blooms of bees.








Aubade for the Old Houses



Windows, opened to June's
seductive air, admit
this morning's ruder rhythm, an insistent
Wham and Wham and Wham:
Pile drivers down the block
are banging home their point.

It's undermining mine:
my love for the loose fit
of houses century-settled, rich in ornament.
I grieve for the grandes dames
battered to wrack last week
where those roughhousers grunt,

a business brutishly done.
Before noon breaks a sweat,
nail guns will volley; convoys of cement
trucks will hiss and slam
their air brakes, beeping back-up,
hogging the space they want.

Like me. Like everyone
who craves a place to sit,
a place to sleep, a place to pitch a tent
for the poor flesh. The stream
of bodies swells the building boom; good luck
asking that tide to wait for your consent.

Noises grind on; I groan
awake. They're whacking flat
the birdsong chorus, gaveling their blunt
verdict. The old houses of my dreaming
drunk-stagger, and I'm dumbstruck,
shamed by my own lament.








Pre-need Arrangements



Like a sign reserving a parking spot,
the marker straddles a double plot.
Their names are there now. They are not,

yet. But they visit, savoring
the trees, and the green advance of spring.
The quiet. And the important thing:

that little changes. They will not see
the rude upheavals of history
from here. They have paid the entrance fee

to the ultimate gated community.








Silent Partner



Welcome, newcomer to this vital project.
Dismiss the stares, the envious sidelong glances.
For what we have in mind, your skills are perfect.

Grace without flaw, discretion without defect:
they've taught you the smooth moves of these old dances.
You grasp that gossip's tainted, small talk suspect,

and rightly timed, a smile will change the subject.
(That younger man who looks at you askance is
no one important.) Bear in mind the prospect

of quiet advancement. Trust, trust is your object.
Wait for a dreamer wafting through his trances,
moth to the flame of a sympathetic affect,

Legion his name. The misfit, yes; the reject.
Loners, whiners, beggars for cash advances,
the bitter exes, the sad sacks, the henpecked—

but mind you never lose a cheerful aspect!
(If someone ends in dodgy circumstances,
you'll know to swat the knowledge like an insect.)

Handshake agreement, yes. No written contract.
This is the apple; bite and take your chances.
The words you never speak are always perfect.








October



I fail at them, those scenes
where beauty is married to fear.
I have failed before with this one.
How can I make it clear

when the moment itself was a blur?
My son and I, that night,
stepped through the warm, wet air
that had magicked every light

to a wide, all-hallowing halo.
He said—I think he was ten,
still with his clear soprano—
It's lovely out here.
And then

the edge of every nimbus,
pale gold through a fog scrim,
shivered, knowing that beauty soon
would be bullied out of him.








Metamorphoses, Late-Night Sci-Fi Marathon



At first they're laughable—think of The Blob
or early episodes of Doctor Who.
Cheap horribles, too cheesy to be true.
You snicker, watching the pink amoeboid throb
or the hand morph to a stump of furry green.
Later, grimmer: a face turns half machine
and last (most gruesome, so remembered best)
an alien bursts in blood from someone's chest—

Turn off the television. Lurch upstairs.
The bathroom mirror explicates it all:
a face your ego doesn't recognize,
dark bags below the eyes, sags at the jowl.
The change behind the fables, real at last.
And night outside. And spacetime roaring past.




FEATURED POET BIO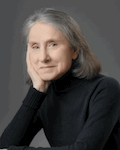 Maryann Corbett earned a doctorate in English from the University of Minnesota in 1981 and expected to be teaching Beowulf and Chaucer and the history of the English language. Instead, she spent almost thirty-five years working for the Office of the Revisor of Statutes of the Minnesota Legislature, helping attorneys to write in plain English and coordinating the creating of finding aids for the law. She returned to writing poetry after thirty years away from the craft in 2005 and is now the author of two chapbooks, four full-length collections already published, and two forthcoming books. Her books are Breath Control (David Robert Books, 2012); Credo for the Checkout Line in Winter, a finalist for the Able Muse Prize (Able Muse, 2013); Mid Evil, winner of the Richard Wilbur Award (University of Evansville Press, 2015); and Street View, finalist for the Able Muse Prize and runner-up for the Hollis Summers Prize. Her fifth book, In Code, contains the poems about her years with the Revisor's Office and is due out this year. A sixth book, The O in the Air, is under contract with Colosseum Books, to appear in 2022. Her work has won the Willis Barnstone Translation Prize and has appeared in many journals on both sides of the Atlantic, including Able Muse, Barrow Street, Christianity and Literature, The Dark Horse, Ecotone, Rattle, River Styx, Southwest Review, and Subtropics. It has been featured on Poetry Daily, Verse Daily, American Life in Poetry and the Poetry Foundation website and is included in anthologies like Measure for Measure: An Anthology of Poetic Meters and The Best American Poetry 2018.