Meredith Bergmann
Nick Capasso, curator of the DeCordova Museum in Lincoln, MA, has written: "As a contemporary artist, Meredith Bergmann relies on her knowledge of history and art history, as well as her considerable talent as a figurative sculptor, to forge enriching links between the past and the concerns of the present. Her success as a creator of public art stems from her ability to make free, imaginative use of the forms and symbols of traditional sculpture to address, in complex yet accessible ways, the multi-layered personal and societal concerns of modern life."
Her largest public commission, unveiled in 2003, was for the Boston Women's Memorial on Commonwealth Avenue in Boston's Back Bay. She has recently completed a monumental statue of the singer Marian Anderson for Converse College and is currently sculpting a large bronze bas-relief commemorating the labor movement for the Massachusetts State House.
Meredith lives in New York City with her husband Michael Bergmann, a writer and director, and their son. Her poems, articles, essays and reviews have appeared in The American Arts Quarterly, Iambs and Trochees, The New Criterion, The New York Review of Art, The Tri Quarterly Review and Sculpture Review. She is poetry editor of the American Arts Quarterly. Her website is www.meredithbergmann.com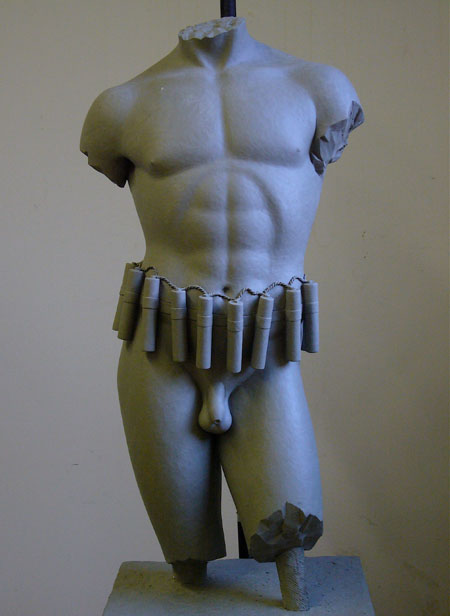 Untitled



34" x 17" x 12
clay original to be cast in synthetic marble
2007

I started sculpting this torso in reaction to the bombings in London in July 2005, working from my memories of classical sculpture in the British Museum.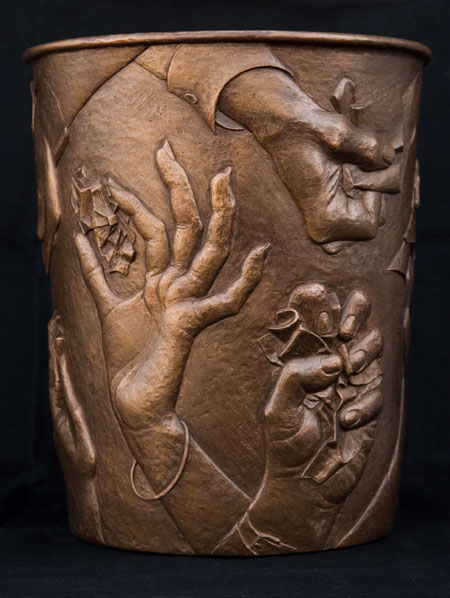 Urn



14" x 12" x 12"
bonded bronze
2006



The size and shape of a standard wastebasket, this Urn is covered with bas-relief images of hands crumpling up sheets of paper with varying gestures of frustration or nonchalance. My models were all poets: Dick Davis, Dana Gioia, George Green, R. S. Gwynn, Rachel Hadas, Phillis Levin, Charles Martin, Joshua Mehigan, Jennifer Reeser, F. D. Reeve, Marilyn Taylor, Catherine Tufariello and David Yezzi.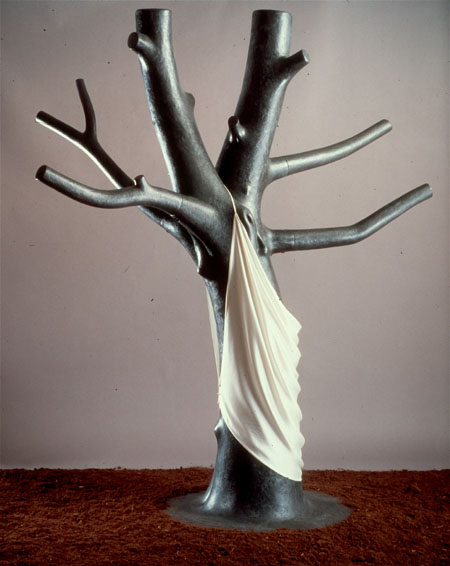 Daphne Reconsidering


ferrocement, fabric
100" x 84" x 60"
1988
photo by Paul Warchol



I love the insistence with which the shapes of human anatomy leap out from the natural world. I had been concerned with the absence of the human figure from contemporary sculpture, and connected this to the myth of Daphne. I imagined her, three thousand years after turning into a tree (and with Apollo long gone), regretting her ancient transformation and beginning to desire human form again. Her surface erupts according to the structural logic of vegetables, but the alluring and frightening quality of the forms themselves belongs to puberty.

Daphne Reconsidering stands over eight feet tall. The ferrocement was modeled over a structure of steel rods and the surface was carved directly. The charmeuse nightgown is about a size 44.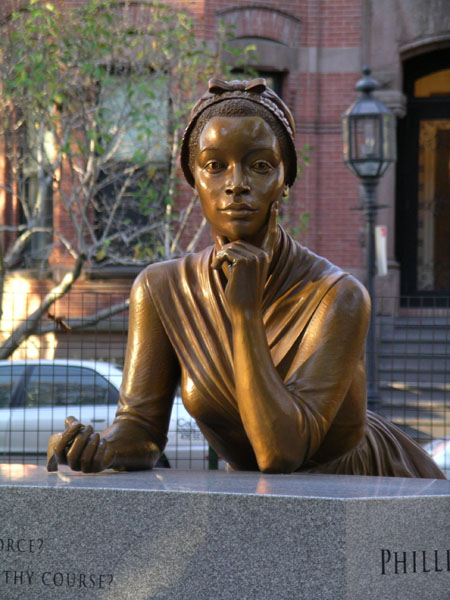 Boston Women's Memorial: Phillis Wheatley


bronze and granite
bronze: 59" x 50" x 32", granite block: 30" x 30" x 58"



This memorial, commissioned for Commonwealth Avenue in Boston, commemorates Abigail Adams, Phillis Wheatley & Lucy Stone for their writing and their impact on society. The women have come down off their pedestals (as in this century women have, symbolically) and have deconstructed their traditional orientation in order to use the pedestals as work surfaces. Each figure personifies a different age and creative temperament. Phillis Wheatley, a slave in colonial Boston, was our first published African American poet. Her pose is derived from the frontispiece of her book, the only extant image we have of her. Here, she represents Youth and Imagination.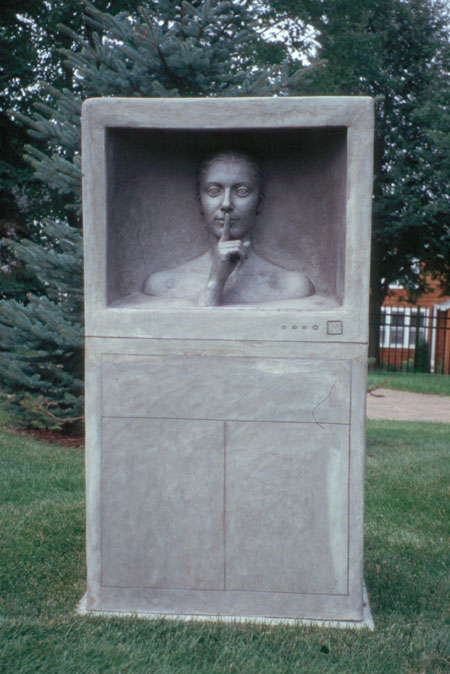 Silent Head


cast resin, concrete
48" x 27" x 20"
1998



I'm working on a series called Set of Sets, inspired by the resemblance between television sets and ancient Roman tombs. In this Set the "talking head" of broadcast news confronts the viewer with the universal gesture of silence and complicity.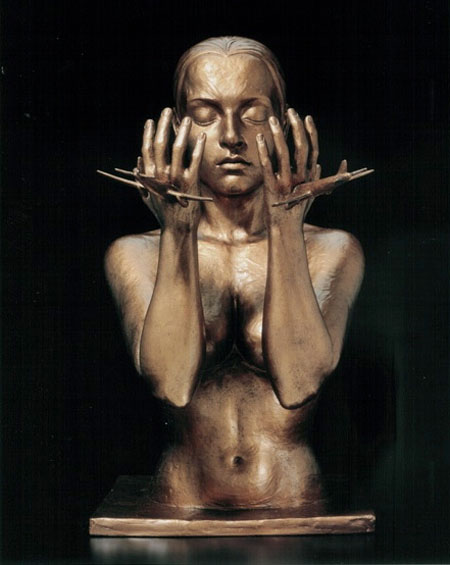 September 11th


bronze, edition of 9
18" x 10" x 12"
2001
photo by John Bigelow Taylor



I sculpted this right after the attack, when I was home with my young son. I felt fiercely determined to make as anti-Taliban a sculpture as possible.

First of all, it had to be a nude woman from our Western tradition of the allegorical female nude, representing New York City as young and strong--even tough. The image of the woman came to me when I was thinking about the Houris, the virgins who were supposed to be waiting for the terrorists in Paradise, and what a travesty that idea made of all that is truly feminine. I imagined them being greeted by this woman, instead.

Then, it had to be a sculpture of a human being that had survived an attack, wounded but alive, unlike the disintegrated Bamiyan Buddhas.

Now I also see that I felt free to use a powerful Christian symbol of wounds that are received as a sacred gift because in our culture a non-religious Jewish artist can use a Christian symbol and have that use be understood not as a blasphemy but as an act of reverence. I have certainly felt free in the past to mine the history of Biblical art for irreverent purposes. This was something new.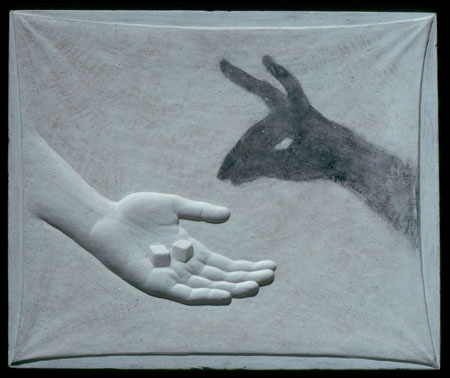 Sweetness and Light


cast polymer cement, charcoal, edition of 12
14" x 17" x 1"
1993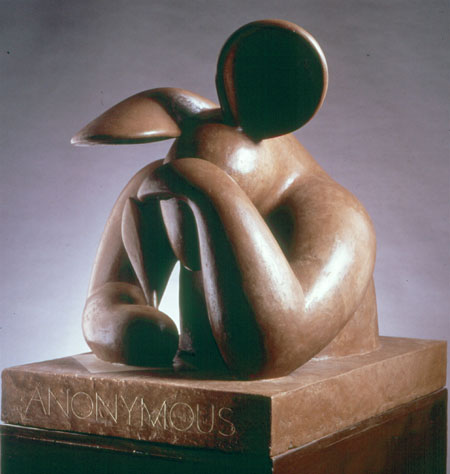 Monument to Anonymous


modified ferrocement
31" x 23" x 33"
1984
photo by Paul Warchol



A monument to our most prolific sculptor, painter, composer and writer. As her/his name suggests, she/he is a mouse. Despite her/his absorption in work, one ear is tuned to our world. The other is focused on the page like a reading lamp. In its third public exhibition, in Central Park, NYC, Anonymous was installed on a pedestal with steps and was climbed on by over 10,000 people, not all of them children.